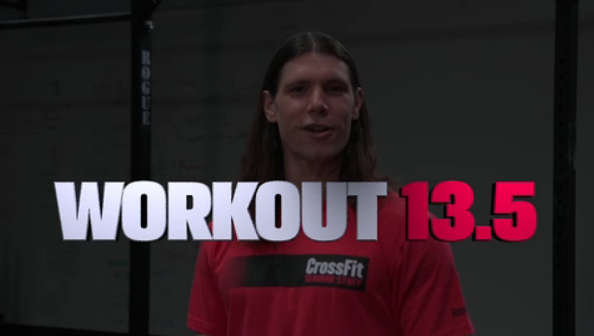 The 2013 CrossFit Open is now officially over, with workout 13.5 in the books.
The final workout in this year's global, online event saw athletes go through a never-seen-before 'Fran' ladder AMRAP.
With the introduction of a four-minute time bonus for every completed 90 reps, the workout was just as mentally challenging as it was physically.
In the end, it was 27 year old Lindsay Bourdon who posted the highest worldwide score, with an amazing 256 reps. Her score was 12 better than Camille Leblanc-Bazinet, and 16 better than Natalie McLain, who finished third overall in the workout.
In the men's half, Josh Bridges continued his amazing comeback to the sport, posting the highest worldwide score with 254 completed reps. Bridges completed the equivalent of two chest-to-bar Fran's in eight minutes, and went on to finish another 74 reps in the final four minutes of the workout.
He finished the week 12 reps ahead of Irving Hernandez, and 14 reps better than Kevin Simons, who rounded out the top three for 13.5.
But despite the win, Bridges still finished the Open in third place overall, with Rich Froning claiming the overall honours yet again. Froning has now not only won the past two CrossFit Games, but also the past two CrossFit Opens.
Finland's Mikko Salo finished the 2013 CrossFit Open in second place, with Scott Panchik fourth and Kenneth Leverich fifth.
Samantha Briggs took out the females half, winning the 2013 CrossFit Open with the lowest score in history. Her combined total of 17 points put her 26 points ahead of Leblanc-Bazinet in second place, and Bourdon in third.
2010 Games champion Kristan Clever finished fourth, with Deborah Cordner Carson fifth.
In the Teams division, CrossFit Invictus posted the best score of the week to claim the overall honours in the Open.
They finished eight points ahead of Diablo CrossFit Anejo, with Valley CrossFit slipping from first place to third after 13.5.
We'll have a more detailed analysis of the 2013 CrossFit later this week, but for now, here's a look at how the major leaderboards stand after workout 13.5:
Check out our full review of the 5-weeks of the 2013 Reebok CrossFit Open, with a detailed analysis of each workout, their winners and the most memorable moments here.
Men
Women
Team