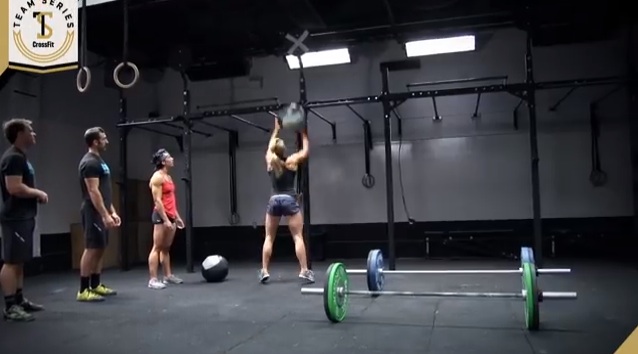 The 2014 CrossFit Team Series is now over the halfway mark with the second weekend of competition complete.
While there has been one change to the overall top five, the top three is still made up of the same sponsored teams that have set a commanding lead over the rest of the competition with just two points separating first and third.
The second week of the Team Series has shown a trend in the workouts, although that's a very dangerous statement with Games Director Dave Castro the mastermind behind the programming.
Weekend one saw four events: one AMRAP, one chipper, one strength and one relay style event. Weekend two followed a similar pattern, but this time it was only sponsored teams that made up the top five.
The final weekend of the 2014 CrossFit Team Series, which begins October 9, can be expected to push athletes even further with the possibility of five workouts in four days a real chance.
Event 5
The relay of 150 wall-balls, 100 heavy cleans and 50 muscle ups was classic CrossFit and with only one athlete working at any one time, it meant each person was fresh when they were tagged in.
According to the leaderboard at the time of writing, Atomic CrossFit – Bootyshorts and Manpris, took first place on the workout in less than half the time of second placed Reebok CrossFit Red, but with no video proof some may argue the time is questionable. The team failed to submit scores for any other workout of the second weekend and placed 464th after the first weekend.
With 300 hard, heavy and complex reps to complete it seems doubtful that they were able to put a beating on the team of Josh Bridges, Lauren Fisher, Camille Leblanc-Bazinet and Dan Bailey.
Especially when it was revealed that under the bright lights of his trucks headlights in his garage gym (see video below), Josh Bridges opened the workout with 100 straight wall-balls on his own.
1. Atomic CrossFit – Bootyshorts and Manpris (5.01)
2. Rogue Fitness Red (10.24)
2. CrossFit Fort Vancouver – Green (10.24)
3. PRGNX DarkHorse (10.27)
4. CrossFit 417 – ProMO417 (10.33)
Event 6
The 15 minute AMRAP of reasonably light deadlifts with deadlift holds and handstand push-ups with handstand holds completed in pairs unsurprisingly went to Rogue Fitness Red by more than 40 reps.
With Bailey, who famously monstered Diane in 1.35 at the 2012 Regionals, paired with Leblanc-Bazinet, who is renowned for her gymnastics prowess, it was always going to be an event that fell into the team's wheelhouse.
And of course, Bridges and Fisher are strong as hell as well, which meant the team didn't have a weakness.
Reebok CrossFit East, with their fierce lineup of Ben Smith, Scott Panchik, Emily Bridgers and Stacy Tovar, took second on the event.
Rogue Fitness Black, the CrossFit Games champion-loaded team of Rich Froning, Jason Khalipa, Sam Briggs and Julie Foucher, took third.
1.Rogue Fitness Red (720)
2. Team Reebok East (678)
3. Rogue Fitness Black (663)
4. Team Reebok West (620)
5. Redline Gear (601)
Event 7
The strength and gymnastic couplet relay of Fran-weight overhead squats and toes-to-bar saw Emily Bridgers post an impressive 2.20 on the event to help Team Reebok East take first.
They were the only team able to break the 10-minute barrier with Rogue Fitness Red and Team Reebok West, made up of crowd favourites Tommy Hackenbruck, Noah Ohlsen, Lindsey Valenzuela and Valerie Voboril, finishing with a tie for second place.
Two athletes from Reebok West posted sub-2.20 times with Voboril flying through the couplet in 2.09 and Ohlsen not far behind in 2.15, but Hackenbruck and Valenzuela were unable to set a similar pace to win the event.
1. Team Reebok East (9.54)
2. Rogue Fitness Red (10.14)
3. Team Reebok West (10.14)
4. Rogue Fitness Black (10.41)
5. PRGNX DarkHorse (10.48)
Event 8
The final event saw athletes tested on sheer strength for the second time in the competition and Rogue Fitness Black dominated.
Sam Briggs, who has never been known as the strongest athlete, posted an absolutely massive 195lb two rep max bench-press to help Rogue Black to the victory.
With Froning and Khalipa, two men who are renowned for their prowess with the barbell, on the team their placing wasn't a huge surprise.
The top five was rounded out entirely by non-sponsored teams, the most of any event of the Team Series to date.
1. Rogue Fitness Black (1020)
2. CrossFit Boynton Beach – Blonde Bombs and Meatheads (1005)
3. CrossFit Lake Charles – The Swole Patrol (980)
4. Champlain Valley CrossFit – Champlain Valley CrossFit – Team Jade (975)
5. PHW (975)
https://vimeo.com/106616616
Each weekend ranks the teams separately with an overall ranking based on placings over the three weekends.
The top five for week two was made up entirely of sponsored teams with Team Kill Cliff – Team Tasty, made up of Kenneth Leverich, Kristan Clever, Becca Voigt and Jon Pera, posting an impressive score after finishing 41st in week one.
However, the same three teams from week one dominated the top three rankings with fourth place 30 points behind third.
1. (15) Rogue Fitness Red
2. (19) Team Reebok East
3. (19) Rogue Fitness Black
4. (49) PRGNX DarkHorse
5. (49) Team Kill Cliff – Team Tasty
Overall, Team Reebok North has been bumped from the top five by PRGNX DarkHorse and CrossFit 417 – ProMO417 remains the only non-sponsored team in touch with the leaders.
But, with just one weekend left in the 2014 CrossFit Team Series, the race for first is down to Rogue Fitness Red, Team Reebok East and Rogue Fitness Black.
1. (4) Team Reebok East
2. (5) Rogue Fitness Red
3. (6) Rogue Fitness Black
4. (13) PRGNX DarkHorse
5. (13) CrossFit 417 – ProMO417