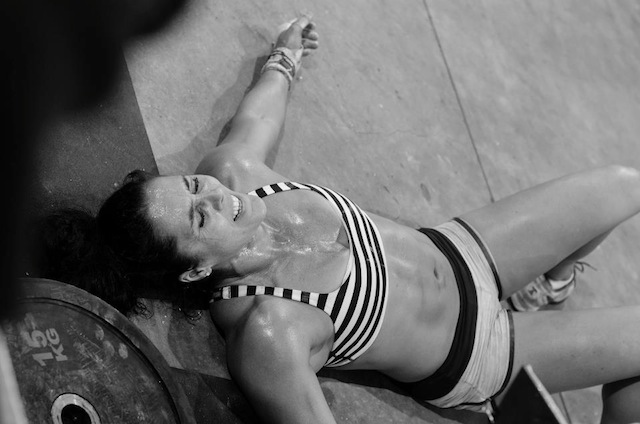 There are a couple of photos of me at the end of workout 7 at Regionals. I'm celebrating like a crazy woman, looking like I'd just won the Games or at the very least, that last workout!
It makes me laugh and shake my head looking at these images! I wonder what people must have thought seeing me carry on this way. Perhaps they thought I'd mistakenly believed I'd won – but I hadn't – not in the leaderboard scheme of things anyway! (Although if Ruth Anderson Horrell hadn't beaten me to the line by 5 seconds in that final workout, my time would have been a world record on that event! Damn it!)
Those images got me thinking about what winning is and reflecting on how much importance we place on coming first as the only definition of winning.
I didn't win one workout during the Regional weekend. I didn't win a ticket to the Games as an individual female this year either. But as cliche as it sounds, I felt like a winner! Still do!
In the workouts I placed 4th, 3rd or 2nd, I felt like a warrior, exhilarated and utterly in the zone. The battles where I was going head to head with my fellow competitors, throwing down with the strength and fitness I've worked so hard to earn – they were the peak experiences. These are the moments I live and train for! The magnificent moments when I taste the sweetness of everything I've worked for in those brief, never forgotten, moments of battle!
In these moments, I am acutely aware of everything and nothing — my senses heightened, the noise of the stadium deafening. And yet, I am in a place of silence, my focus on the next rep is searing, my pain meets itself, my mind overcomes its own weakness – its compelling! I'm as alive as I could ever hope to be. Even if I wanted to stop I couldn't. I'm in the flow, I've put it all on the line, I'm committed, I've promised and I need to know.
The ultimate battle ground is inside my skull, inside my own skin; it happens at the box and it happens every day. Regionals however provide a very public, high-stakes arena in which I have an opportunity to test my metal, my character, my courage and my fitness. I'm constantly striving to find out what else I'm made of. What more can I do? How far can I push myself? The Regional provides me this ultimate testing ground.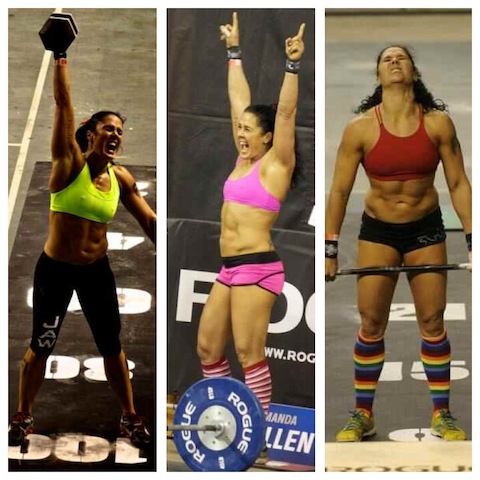 When I put it all on the line, unwaveringly, with every fibre of my being, without fear or hesitation, then I have won, because I have faced myself and I have held true to my commitment to myself, my coach and my CrossFit family.
I have acted with the highest integrity, upheld my promise to myself, stood fast in the face of fear and seen my intention through to the very last drop of fight left me. This means everything. To me this is winning. It's not about the outcome, it is about the process.
Back to those images. I was elated by the wildly close race in workout 7 with Ruth, because I peaked on that workout. I didn't hesitate, I didn't miss a beat, I orchestrated that workout exactly as planned and visualised; and it was epic! What heightened that experience was the chase, the closeness of the battle, combined with the energy of the crowd willing us on and my resolve to go unbroken on all sets of cleans – no matter what! It was potent, I felt powerful and it was fun.
That's how the last 4 workouts of the weekends unfolded for me – closing in, close fought battles, peak performances, energy & excitement, integrity within and without… Smiling all the way!
And why wouldn't I be smiling? I was my best at Regionals. I won myself over, and I discovered what I was hoping to one day find – solid ground, hard rock and an unshakable foundation! It's hard earned, it will continue to be tested and built upon, but it's there. And I know now I can rely and call upon it every day, through every lift, through every muscle-up and one day return to Regionals and the Games!
When we overcome our fears, our doubts, our insecurities, our negative patterns and the lies our heads constantly tell us. When we keep turning up constantly, inspite of valid excuses not to – in my book that's the ultimate form of winning!