Some massive news coming out of the CrossFit world today with Dual CrossFit Games champion Annie Thorisdottir revealing she will not be competing in the rest of the 2013 CrossFit Open.
Iceland Annie has reportedly injured her back is unable to even do an air squat.
The 23 year old spoke to CrossFit yesterday where she broke the news.
"I definitely won't participate in the Open," Thorisdottir said. "I can't even do an air squat."
She also confirmed the news on her Facebook page, posting:
"I hurt my back again… Not sure how big of a set back this means. It is not as bad as last time, but slightly herniated disc. Can not even try to express how disappointed and angry I am at myself, but things happen. I will keep you updated, Thank you everyone for the support!"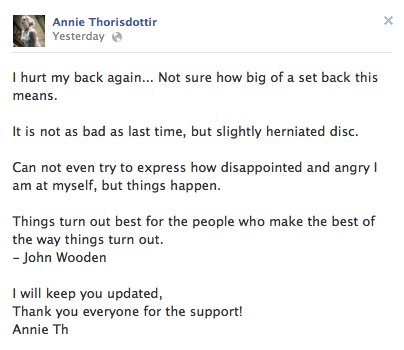 Thorisdottir is the most successful female competitor in the history of CrossFit and many expected her to win her third straight title at the Home Depot Center in 2013.
After week three of this year's CrossFit Open Thorisdottir was sitting in 12th place on the worldwide leaderboard and was on track for another Regional event.
Despite the fact Thorisdottir will not be competing in the Open, she may still be invited back to the Games. As section 3.b.i of The CrossFit Games Competition Rule Book states:
CrossFit Inc. reserves the right, in its sole and absolute discretion, to invite past
winners, guest athletes, Teams or others, to participate in any stage of
competition. This decision may be made to preserve the traditions and spirit of
The CrossFit Games or for any other reason at the sole discretion of CrossFit Inc.