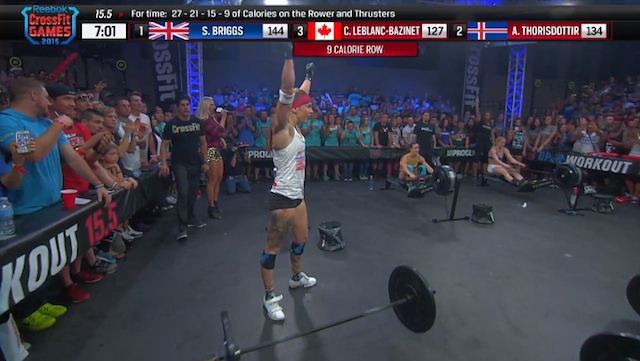 After a brutal descending ladder of calorie rows and thrusters, it was Sam Briggs who defeated Annie Thorisdottir and Camille Leblanc-Bazinet in the live workout announcement for 15.5.
The workout itself was a 27-21-15-9 couplet of rows and thrusters (95lbs/65lbs) that was for time instead of an AMRAP.
It was also the first time we haven't seen a form of burpees included in the programming for the Open!
From the beginning Briggs and Thorisdottir went out stronger on the row. Their height advantage over Leblanc-Bazinet saw the pair get to the first set of thrusters first.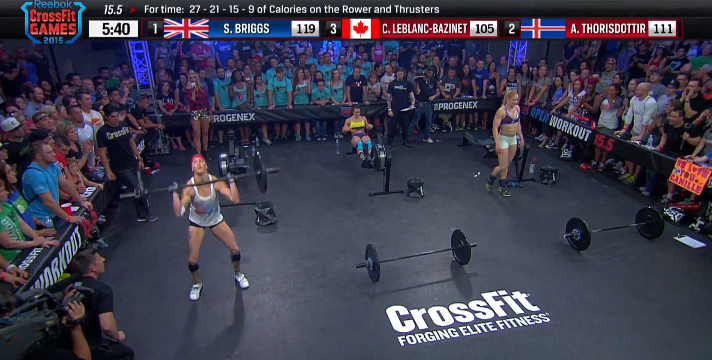 As expected all three girls went unbroken on the thrusters and it really came down to how fast each athlete could row for.
By the third round Briggs had started to pull away from Thorisdottir and had started to build a lead of a couple of reps, with the current Open leader Leblanc-Bazinet lagging behind in last place.
By the time Briggs had started her final row Thorisdottir was too far behing to catch her with the 2013 CrossFit Games champion winning in a time of 7-minutes flat.
Thorisdottir came in second in an unofficial time of 7:28, while Leblanc-Bazinet was a little further behind in third place in an unnofficial time of 7:50.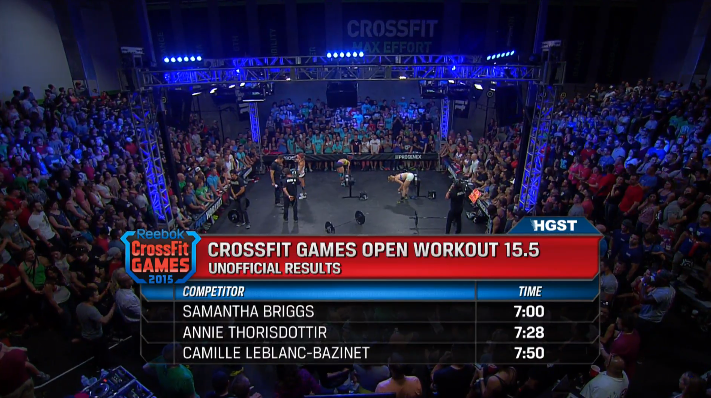 For a full breakdown of the Briggs vs Thorisdottir vs Leblanc-Bazinet battle in the CrossFit Open 15.5 live announcement workout, check out our live blogging of the throwdown which can be found by clicking here.
For the full description of 15.5 you can find the workout details here, and for the full breakdown for all divisions you can find that info at the CrossFit Games website here.
And if you want some tips and advice for 15.5, check out Amanda Allen's strategies here.