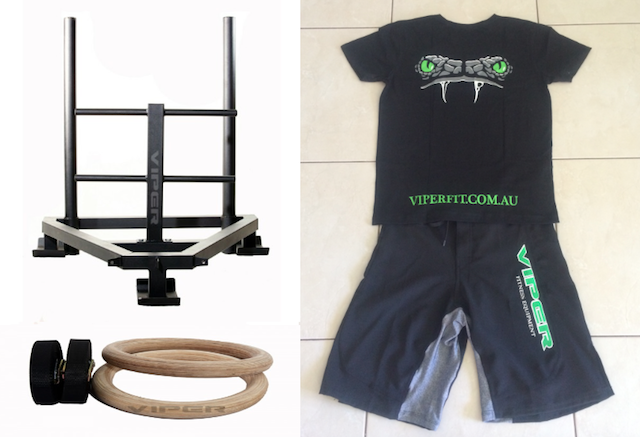 This week The Rx Review is giving you the chance to win a brand new Push Prowler from Viper Fitness Equipment!
Valued at over $250, the black coloured sled is a perfect addition to any CrossFit affiliate or home gym and would also make a great present with Christmas just around the corner.
In addition to the prowler, Viper Fitness Equipment has also supplied us with set of gymnastics rings, and an 'apparel pack' to giveaway as runner-up prizes. Here is a closer look at all three prizes up for grabs:
1st Prize – ViperFit Push Prowler (Valued at $285 AUD)
2nd Prize – Wooden Gymnastics Rings (Valued at $90 AUD)
3rd Prize – ViperFit Apparel Pack (Shirt and shorts valued at $65 AUD)
For those who aren't familiar with Viper Fitness Equipment, they are an Australian online fitness store specialising in high quality Functional Fitness and conditioning equipment. They sell everything from bumper plates, barbells, speed ropes, sandbags, dumbbells, medicine balls, slamballs, kettlebells and almost anything else you can imagine!
This giveaway will be open for the next two weeks with the three winners to be announced in our Weekly News Wrap next fortnight. So make sure you don't miss out on your chance to win a push prowler.
Due to postal contraints, this Giveaway is only open to readers in Australia and New Zealand.
For your chance to win a push prowler, simply follow the steps below:

Update (12/24/2013) – This Giveaway is now over. The three lucky winners have been announced in this week's 'News Wrap'. Click here to find out if you were one of them. Thanks to everyone who entered!