26 year-old Aja Barto will compete in his third straight CrossFit Games in July, after finishing second at the 2013 South Central Regional.
We caught up with the former Major League Baseball player, 21st place finisher at the 2012 CrossFit Games, and the man behind Behemoth CrossFit in Houston, Texas this week to find out how he's preparing for this year's competition.
In the following Q & A, Barto shares a few thoughts on this year's Regional competition, talks about his training and diet in the lead up to the 2013 CrossFit Games, and reveals his expectations at Carson, California in July.
Aja, Congratulations on your second place finish in the South Central Regional. How did you find the competition?
Thanks a ton, I am honoured to qualify and represent the South Central Regional once again in Carson. I thought the competition was great. Out of the past few years it has definitely been the most well rounded programming I've seen to allow for the best and truest "CrossFitters" to come out of each Region.
I thought for the most part there wasn't really anything that everyone couldn't do. Unlike last year where some were cringing at the thought of 30 225-pound hang-cleans, everything this year was do-able for all and really allowed the cream to rise to the top.
What was your first thought after qualifying? Did you savour the moment or was it all about the next step towards the CrossFit Games?
Going into the weekend I had already "seen" myself qualifying in my mind's eye. It was truly a grind to get to that point, but the process started many weeks out. I was very excited, honoured and privileged to earn another trip to Carson.
I think this was one of the toughest set of workouts to qualify out of, regardless the Region. There were very few separating workouts and even the strength component of the competition required strategy considering the workout (Event 3 – 30 burpee muscle-ups) that followed it.
I'm proud of myself and my efforts, but that was very short lasted. The big focus is on Carson and being the best I can be come end of July. It's all a process, but it's about how you finish, not about how you start.
So with the Games just weeks away, how has your training changed?
Training will stay the same for the most part, but the volume will pick up. I'm taking one full recovery day and the other one will instead be a longer aerobic session. Honestly, training for the Games is a privilege and is really the most fun time of the year.
You realize you are one of the select few that are still training for the big stage and it helps fuel your training. I'm focussing more on swimming and increasing my aerobic base with unusual, longer training sessions.
Now we have seen a lot of athletes train some interesting ways to prepare for what Dave Castro might throw up. What is the craziest thing you have found yourself doing?
Water boarding and burpees on broken glass!
How about your diet? Is there anything in particular that you eat to maximise your performance and support your training volumes?
Lots of carbohydrates; tubers, sweet potatoes, potatoes, rice, glucose and maltodextrin powder to help fuel the volume and replenish glycogen stores.
What have you learnt from your previous experiences at Regional competitions and the Games that will help you this year?
I've learnt that the CrossFit Games are a privilege and a really fun experience. Those that do well know exactly how to manage their time throughout the Events. The veterans know when to be loose and relaxed, and they know when to focus and execute.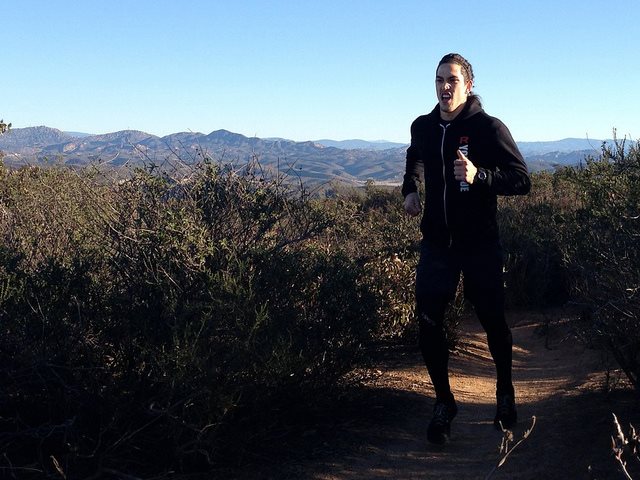 What are your overall expectations for the Games? Can you win it?
I hope everyone goes into the Games with the expectation and desire to win. If not, then why are they competing?
My focus is on being the most prepared I can be come competition day and performing the way I believe I can. Anyone can be beat on any day.
Who do you think are the top contenders? How about the one to watch out for?
All 47 men.
Talk me through the moments before heading out onto the floor for that first workout, Event 1, 2013. What is going through your mind?
Positivity, confidence, excitement, nervousness, and most of all the expectations to hurt a lot.
How about half way through the Games competition, your body has been through several gruelling workouts. What is your approach to making it to the final event?
Hurt more than the other guy and continue to give it my all and let all else work itself out.
With a 28th placing in 2011 and 21st in 2012, what is your ultimate goal this year at the Games?
To get better each Event, and be the best on Sunday.
Written by Andy Lee: Andy is an avid CrossFitter from Melbourne, Australia and trains out of CrossFit South Yarra. He is a contributing writer for the CrossFit Games website and a regular writer for the Blonyx website.