At the age of 24, Camille Leblanc-Bazinet has wasted little time making a name for herself in the CrossFit world.
Not only is she a Regional champion, and a three-time CrossFit Games competitor, but she is one of the few athletes in the world to have finished top 10 at the Games on three occasions.
In her first appearance at the Home Depot Center in 2010, Leblanc-Bazinet finished ninth overall, with just months of CrossFit experience behind her.
In 2011, she went one better, finishing eighth overall and last year continued to improve, with a sixth place finish.
This year, the Canadian beauty is on track for her fourth straight Regional appearance, sitting in second place overall on the 2013 CrossFit Open leaderboard.
Heading into the final week of the Open, Leblanc-Bazinet is 33 points behind overall leader Samantha Briggs, and is a chance to claim her first ever CrossFit Open title.
The Rx Review spoke to Leblanc-Bazinet a few days ago to chat about her goals and expectations for the 2013 CrossFit season. We discussed a variety of topics from her introduction into the sport of CrossFit, diet, goals, and how she deals with being labelled the 'hot' CrossFitter in the females division.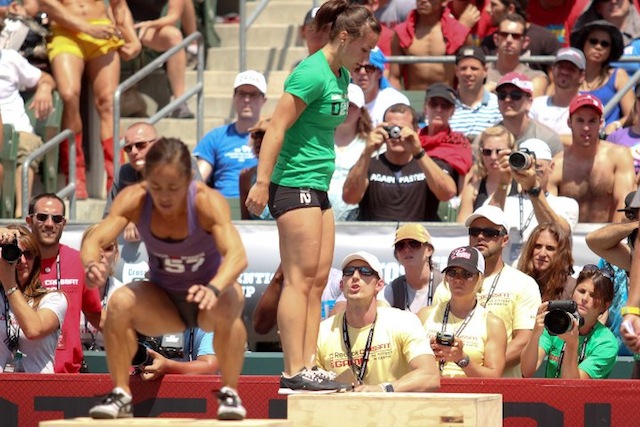 Well first of all Camille, you were slated to go head-to-head with dual Games champion, Annie Thorisdottir during CrossFit Open workout 13.2 but were unable to attend. Can you explain what happened?
So because I'm married to Dave [Lipson] we had started the process for my Green Card. I was supposed to receive my papers so I could cross the border. But I received the papers the day after I told Dave Castro that I couldn't pass the border. So basically, I was one day too late!
So has that been resolved now? Can you now legally work and travel in the United States?
Yes I have my Green Card and I am now a quarter American!
Let's rewind for a moment. Talk to me about your athletic background and how you found CrossFit?
I was a national gymnast growing up and played all kinds of sport like volleyball, soccer, jump and rails with skis, and I was also doing half marathons. Name it and I'm pretty sure I did it.
Then I started playing rugby and some of the players on my rugby team were doing CrossFit. One of the coaches challenged me to try CrossFit, and obviously I liked it because since then I have stayed.
What year was that?
That was like four years ago. I'm now in my fourth year of CrossFit.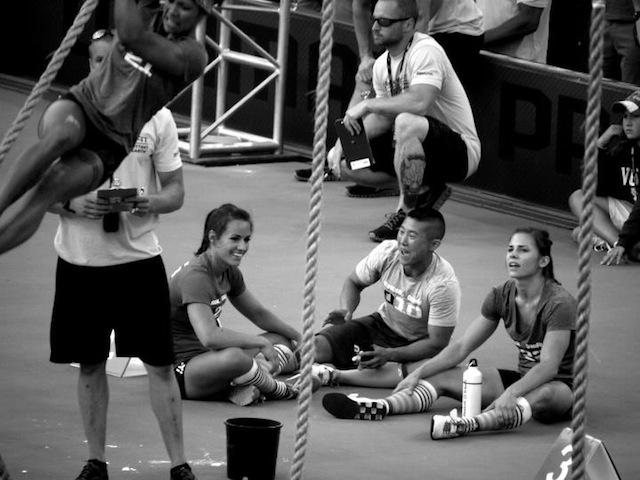 After competing at several CrossFit Games what do you think you have you learnt?
Oh my god, I learned so many things it's insane. My first CrossFit Games I went by myself. My brother didn't even come because he didn't think CrossFit was even big. I got there by myself and I didn't even know what weightlifting shoes were! That's how much I didn't know. I didn't understand half of what they were saying standard wise. I learned a lot of English to start with.
In 2011, I learned the most because I got sick in the first event, the swimming. Then I got heat stroke and I realized that you really need to be ready for these things. You really need to have things prepared like food prepared, recovery prepared and make sure you have people to take care of you.
Obviously I learned from all the other girls because I saw them moving and picking up stuff. I was like, 'Oh that's how you do that?'
I guess for me the biggest thing that I learned is watching those girls go and their mentality. I mean some of those girls are so tough; they really inspire me because they are so tough.
How do you approach your diet? Do you prescribe to Zone, Paleo or something else?
It's hard to say Paleo, and I think most people over say that because I don't think they do (eat strict Paleo). I would say I eat clean. I eat veggies and meats, sweet potatoes a lot and lots of fats too, but I also take supplements.
I always have my BSN protein, I take Extreme Endurance as well and I take some amino acids too.
I eat clean but I go and grab whatever I need outside that and if I think I need to cheat, I'll go and cheat.
You mentioned Xendurance, which are currently one of your sponsors. Can you talk to me about that product and discuss if it has helped your training?
Yeah, totally. Man I love that product! Everyone questions if it works for real, but seriously, everyone that I have given it to won't get rid of it because it works so well. It's super simple and really makes you recover faster. I mean I just did the Open workout two-hours ago and I'm totally fine and even did some sprinting afterwards!
The beauty about the product is that I'm not really sore anymore and I always feel great to train. And when I train it has really helped me stay more focussed and less negative. And you hit the wall later as well!
So you feel it helped you during the CrossFit Open?
Yeah totally, everytime I hear the workout I take an extra dose of it. I'm sure it's helped me because it increases your V02 MAX too and the Open is pretty cardio based.
How long have you been taking Extreme Endurance?
After my Regionals last year, so almost a year now. And now my Dad is taking it and he loves it!
Is it good for CrossFitters or everyone?
Here's what I have to say; nobody likes being sore. So I think everyone should take Extreme Endurance.
With the sport of CrossFit exploding over the last few years, athletes are now getting enormous amounts of attention. Has that been hard to deal with?
No, it's wonderful. It's funny but it's almost like the less you want the attention, the more you have it. 
I love that people can look up to me as a role model and I take it really seriously. I never want to do something bad in front of people because I want them to have a good impression of me. I think it's amazing and the CrossFit community is very supportive for all that.
For me, I think it's my role to show the next generation what they can become and show them the image that strength is beauty. I think it's amazing and I'm totally embracing it.
I think many would rightly say you are known as much for your athletic talent as you are for your looks. Is that frustrating at times or just part of the business?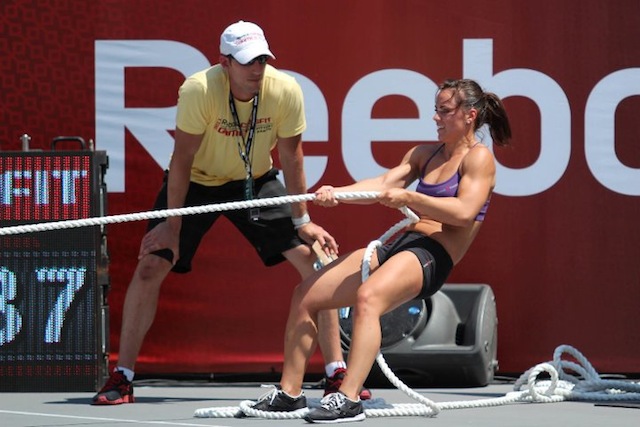 I think many would rightly say you are known as much for your athletic talent as you are for your looks. Is that frustrating at times or just part of the business?
I'm not too frustrated about it now. But In 2010 I finished ninth at the Games and I remember that a lot of people were talking about me saying, 'she's not that good, she's only pretty'. 
So people were kind of mean about it, but I feel that at this point, with me proving myself every year at the Games, and also proving myself in the Open right now, I think everything flips.
You can be more than one thing at a time, and just because you're cute, it doesn't mean you can't do anything else and you need to be dumb. You can be good at sport, good at school and can be pretty at the same time. The sky's the limit.
What advice would you give a young girl getting into CrossFit?
I've been doing a lot of events on the side and I've met a lot of kids. I love meeting kids and they are next ones following us, so we need to make sure they don't do the same mistakes as we do to become a better generation. I meet a lot of kids and it doesn't matter if they are CrossFitters or not. My advice is very simple; if you want something, work your ass off for it. Obviously I don't say it like that.
I mean there is only one way to have your dream and you need to work really hard for it, life is not easy. Most of the time I tell the kids and they smile at me and they know I am right.
I try not to tell them, 'as long as you believe in your dreams it will come true', because the reality is that you really need to work hard for it. But if you do, it is going to come true.
Finally what are your goals for this year?
I think it's pretty obvious. I want to win the Games! With that said, it's not easy and I would be really happy with a podium finish.
I say, I want to win the Games because if you don't think that way, there is no way you can do it. So that would be my big goal, but I would really like to be on the podium. I'm tired of being around it!