CJ Martin is the coach and owner of one of the most well known CrossFit gyms in the world, CrossFit Invictus. However few know that his life as a strength and conditioning coach was not etched in stone. In fact, CJ spent the better half of five years working as a successful litigator in securities fraud and complex commercial litigation before he decided to follow his heart and open the doors of CrossFit Invictus in 2009.
Since then CJ has gone on to take his box from 20 members to well over 300. Yet it is not numbers alone that makes his gym so successful. CJ has fostered an almost idyllic community as their support for one another, coupled with their passion for CrossFit, becomes apparent every year at the CrossFit Games when the "Sea of Green" Invictus supporters come out in full force to cheer one another on.
It is no wonder in 2011 CrossFit Invictus won the Reebok CrossFit Open Participation challenge, registering the most competitors from a single box in the world with 221 athletes.
Last season the "Sea of Green" was on full display and became an almost omnipresent force as their fellow training partner and teammate, Josh Bridges made his run for the title "Fittest on Earth," placing 2nd.
I had the pleasure of training at CrossFit Invictus in 2010 and found it to be one of the most supportive gyms I have trained at to date. On top of this it also had some of the most technical and knowledgeable coaches I have come across. That type of excellence and attention to detail is a testament to the hard work and dedication that CJ and his team have put in over the years. So enamored was I with the quality of coaching that I continued to followed the Invictus programing long after training there.
CJ is a Level 2 CrossFit instructor, former member of the CrossFit HQ training staff and known by many as the coach of CrossFitters like Josh Bridges, Jenny LaBaw, Elyse Umeda and Camille LeBlanc-Bazinett to name a few.
I had the pleasure of speaking to CJ several weeks ago. His knowledge of the sport and expertise on all things CrossFit was clearly evident. After only a few minutes it was obvious why his box continues to thrive year after year. CJ is not only passionate about what he does but his drive for excellence and caring nature makes him an almost perfect coach.
Our discussion took in a range of issues but most of all we touched on topics like how he went from lawyer to coach, the beginnings of CrossFit Invictus, advice on opening a box, his thoughts on the Reebok CrossFit relationship and who he thinks will be crowned fittest on earth this year.
So CJ can you tell me how you made the transition from law into CrossFit?
Absolutely. My background was in competitive Taekwondo, boxing and I played college baseball. I had been an athlete all my life and I was boxing during my first year of law school but had to give it up because of the demands.
I then found myself pretty sedentary for the next 6 or 7 years, still going into the gym but never really treating myself like an athlete any longer. Finally, I was just kind of done with it, enough was enough and in 2006 I found CrossFit on the Internet and made my way over to CrossFit San Diego. I got involved there as a client but I had been teaching all my life. With martial arts you start teaching at a young age as you achieve a certain rank so you start coaching others. So it was really natural for me to want to help others.
Then when the owners of CrossFit San Diego moved they asked for help, so I helped run the place when they were gone. I did that for about 18 months before I finally decided to open my own gym.
How did Invictus get started?
I was working as an attorney but I loved CrossFit and loved coaching so much that it ended up consuming my life. I would wake up at 5:30am race down to the gym and would coach from 6am to 8am. I would coach a group from 6am-7am, then normally an individual from 7am-8am. Then I would rush over to the law office and I would work from 8am to 5:30pm and then rush back to the gym and coach from 6pm to 8pm. Then I would go home and I would eat and either get back on the computer from home or have to go back down to the office normally working until 1 or 2 in the morning in order to keep my obligations to the law firm going.
I ended up spending a good 4-hours a day and then a majority of my weekend reading about CrossFit. If I was not coaching or doing some education on my own I was trying to study other books on strength and conditioning outside of CrossFit. And so what I found was I ended up spending all this time doing my hobby and I loved it.
I soon started to realize that people were willing to pay me for this and there were opportunities out there to make this a career. I had also gone through a divorce that year, and that meant that I didn't need to worry about anyone other than myself in terms of income.  It meant I could take a financial risk without harming anyone else if it failed. It was either sink or swim, but I was the only person that was going to down if I was going down. That made me feel comfortable taking the chance, so I decided to go for it.
Initially when we opened Invictus I intended to work part-time because it was too much money to give up. But I ultimately realized this is my passion and if I'm going to be good at it, and if my gym is going to be successful, I need to devote 100 percent of myself to it.
So what year was that?
That was in 2008. We officially opened January 10th of 2009. We got the keys to this building that we're in November of 2008 and it was three blocks from my law firm.
How did you give notice to the law firm?
The law firm was actually great. I was just honest with them and told them I was looking at pursuing another passion and I needed more time to explore that option. I reduced my hours for a few months and then as soon as we got keys to the building I gave notice that I would stay on until December 31 and then I was going to focus full time on making my dream job a reality. That gave me time to transition my cases and wrap up all of my responsibilities with the firm.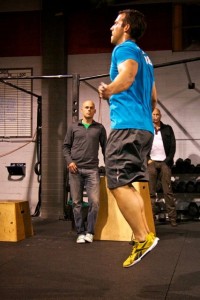 You have taken your gym from only 20 members in 2009 to well over 300 today. What advice would you give to someone opening a CrossFit box today? 
I would say that it does take full commitment, but it also takes smart planning. I see a lot of people that are opening gyms just because they love CrossFit, but I'm not sure they are spending an adequate amount of time making sure they love coaching and the process of running a business.
I spent 18 months reading everything I could get my hands on about CrossFit, educating myself as a coach and also coaching on top of another schedule. So by the time I decided to open Invictus I was really clear that I absolutely loved this and was passionate about it.
So I would say the first step is put in the time. It has to be true passion, not just something you have loved for the last 4 months and want to get certified and open a gym. Then the next step is making sure you have staff that you love and trust. For us, our coaches and our administrative staff are like family, and I do my best to treat them as such. This means we have not had to deal with issues of staff turnover. Our coaches are respected and happy, and most have been with us since we opened our doors.
As an example of how we prioritize our staff, one of our most recent victories was obtaining group health insurance for our staff. That's a big deal because most people in the fitness industry don't have group health insurance. But we expect our coaches to be professionals, and if we expect them to be professionals, then I want to make sure we treat them like professionals and give them similar job benefits and security.
For someone running a smaller box or that is just starting out who may not be able to offer health insurance how would you recommend they foster that family relationship? Is it simply about proper remuneration?
It doesn't have to be monetary.  Remember, it took us 3 years to get health insurance. Before we had the financial resources to properly recognize our staff members' good work, it was more about creating an understanding that everything they did was appreciated and that when those financial resources were available they would be taken care of.  And of course, you have to follow through on that.
But ultimately I think that compensation and benefits are minor when compared against the intangibles of trust and respect. If you start from a basis of trust and respect, the rest of pieces fall together nicely.  They will know that you care about them, that they're a big piece of the overall picture, and that they will be rewarded as you grow.
Are there some pitfalls of running your own box that people may not be aware of?
Yeah absolutely there are pitfalls. A lot of people open gyms because they love working out. But you can't forget that you have to run a business.
If you don't have business experience or the right mindset to run a business then there are a lot of things that go with that that are not very desirable. For instance, I don't like to sit behind my desk and run payroll or do all the administrative stuff that comes with running the business. My suggestion is either you find somebody you trust that can do these things for the business or make sure you have some experience in it or enjoy doing it.
Say I'm 12 months into starting my own box how would you recommend I expand my business. Would you recommend a social marketing/Facebook approach or are leaflets in mailboxes sufficient?
Man I'm the wrong guy to ask. We have not done any marketing. I barely do Facebook. I'll get on maybe once a week or so and I know I should update it more often but it's just not something I'm very active with.
Would you say that would be word of mouth then?
Yeah. I'll just echo one of the most profound things Greg Glassman ever said is that you should always focus on striving for excellence and let the money follow. And that's all we have done.
To the chagrin of some business coaches that we have talked to all we focus on is providing the best coaching, the best programs and the best experience in the gym we can. We have done zero marketing and our gym continues to grow at a really nice pace.
I focus on the principles of why I got into this business in the first place. It's about helping people and making them better, and then building some systems around that to ensure that it's financially rewarding.  I don't think it works well if you try to switch that order.
Along these lines of marketing and financial success, we have an issue arising in the States with discount coupon companies like Groupon and Living Social (not sure if you have those in other countries). A lot of gyms have run promotions through them, and I think it's a huge mistake. It essentially sends the message that your product is only worth 25% of what you are charging. Once you devalue your services like that as a coaching facility it's really hard to regain. I know these guys want to get exposure and new leads, but to me devaluing your offerings is the biggest mistake somebody can make. You should be proud of what you offer and constantly try to over-deliver on what you offer to make sure you are the best value at the highest price.
Let's say you have done all these things and you now have a successful box like CrossFit Invictus but suddenly a box opens up down the road and it's a poor representation of CrossFit. Is there any worry how that box could affect your CrossFit brand? If so how does an affiliate owner like yourself protect your name?
I think you protect your name by setting yourself apart, and you set yourself apart by delivering the results you promise clients and providing them with an atmosphere and experience that is superior to what they could have hoped for coming in.
For us our program looks a little different than other gyms, and our website looks a little different. And when the person first comes into the gym, hopefully they see and sense something that is a bit different in what we offer.
That said, I think CrossFit has the power to do so much benefit in peoples lives that it saddens me when people do not spend the time to educate themselves and make their brand the best it can be. I do think that devalues the brand sometimes.
But I don't think this is unique to CrossFit. I think this is a problem for the entire fitness industry. Far too many fitness "professionals" fail to treat their job as a profession. Professionals spend time improving themselves through education, constantly learning and seeking to become better. They pride themselves in their craft. Unfortunately, you don't have to look far in the fitness industry to find folks who don't adhere to that ideal.
Is there anything you can do? Or is it simply focus on what you are doing and forget about the rest?
There is only so much we can control. There is always going to be stuff going on outside of the gym that is totally outside of our hands. We place our focus on making sure we're offering the best possible service, product or experience that we can offer to our clients.
So what's your take on the new Reebok branded CrossFit gyms considering you are an affiliate yourself?
I have a great relationship with the guys over at Reebok. I coach an owner of one of those Reebok gyms that just opened and it seems like nothing but good stuff for them. From what I understand it's help with the branding and marketing, which helps to get the gym name out there as well as Reebok.
I'm not sure it would be something we would jump on. We are going to sell Reebok clothes at our gym but for us it's really important that we have our identity. But I think Reebok is offering a pretty good service to a lot of those gyms.
I think initially when we heard Reebok was coming in everyone had a lot of concern. It's a huge difference for the CrossFit culture to add a corporate partner. For a lot of us that had been around CrossFit fairly early on it almost seemed contrary to the CrossFit ethos to have a corporate partner. But after getting to know the guys over at Reebok they live and breath the sport of CrossFit and the community just like every one of us do. So I think that does kind help to ease people's minds when you start looking at Reebok's involvement in CrossFit and in affiliate gyms.
Would it worry you as an owner that a customer may choose a Reebok branded CrossFit gym instead of an Invictus, especially now people are starting to associate Reebok as CrossFit?
I see the concern. It doesn't concern me because we I think we have worked hard to develop our brand and to develop the community that we have. Although I see the concern for people and I think it has to be a well-managed relationship to have the synergies of Reebok and CrossFit without trampling the affiliate owners, because ultimately it is the affiliates that are the heart of this community.
So far I haven't seen anything that has given me a huge cause for concern. I think the initial concern was that Reebok was going to go in and fund these mega-gyms and be able to charge $49 a month and no affiliate would be able to compete. But Reebok understands that concern and they know they could never be in that space without damaging the relationship with the affiliates and the community.
So last question. You're the famous coach of Josh Bridges and the 'Sea of Green' so who do you think will win this years CrossFit Games or are there people we should keep an eye out for?
I'm coaching a couple of ladies that I think are going to be really strong this year. I think that Annie and Kristan are just going to have a little more competition than they may have had for the last two years.
On the male side I would love to say Josh Bridges if he was available for the Games. Otherwise Rich Froning, the guy is just really impressive. I think everyone has got their work cut out for them to catch up with Froning.
To find out more about CJ and his gym click on the CrossFit Invictus link here.