Samantha Briggs was a standout performer at the 2011 Reebok CrossFit Games finishing 4th in the world.
Yet the 31-year-old, who trains out of CrossFit Black Five in Manchester, England, failed to qualify for the 2012 CrossFit Games after suffering a knee injury.
Despite watching the 2012 CrossFit season from the sidelines, Briggs has shown that the layoff has not impacted her.
After posting the 3rd best score in the world for workout 13.1 in this year's Open, Briggs backed it up with a 3rd place in 13.2, and a 1st place in 13.3, proving she is back stronger than ever.
We spoke to Briggs moments before she undertook the CrossFit Open 13.4, a workout she was optimistic about. As it now turns out, she not only secured the best women's score in the world for that event with an astonishing 126-repetitions, but she is now sitting in first place overall, 33 points ahead of her nearest rival.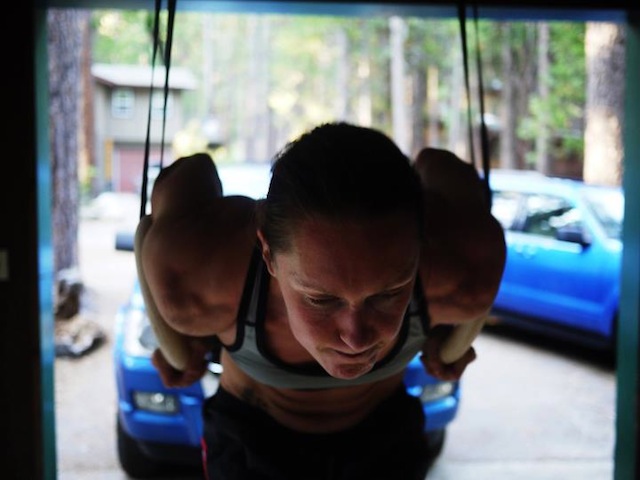 So Sam, have you done 13.4 yet?
I'll be doing it soon. Probably in a couple of hours.
What's your goal for the workout?
I'll probably try and beat what I've got previously on 'Fran'. The movements are obviously quite similar so hopefully I'll be able to get a similar score.
You were on top of the worldwide Leaderboard after 13.3. How do you feel?
It's nice. It's a confidence booster to come back from injury and be up there. But I also know it's only the Open and all the cards are changed as soon as you get to the Regionals and the Games. I just hope that I can stay at the top level.
You suffered a knee injury that forced you to withdraw from the 2012 CrossFit Games season. Have recovered from that?
I'm feeling a lot better now. I won't lie, sometimes certain movements will affect the knee
Basically my kneecap is in two pieces, so I do get some problems when the fragment moves around. But nine out of 10 times it's fine and I won't even think about it.
So what was the exact problem with your knee?
It was a fractured right patella. I opted to not have the surgery because they couldn't guarantee that the scar tissue would be less painful than taking the fragment out.
I couldn't do anything with my legs for three months. So coming back was a gradual introduction of air squats. It was probably six months before I could start to introduce any weighted movements to my legs.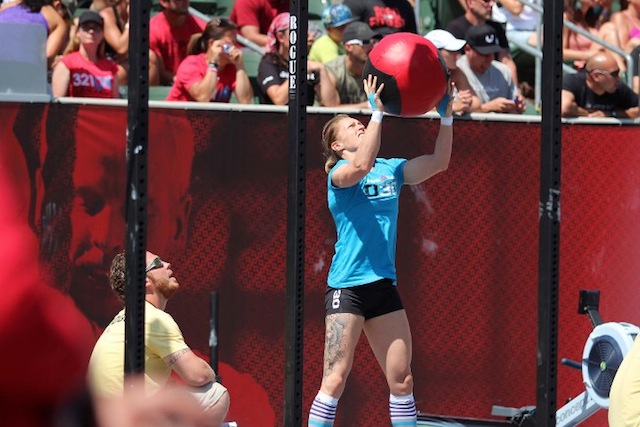 When did you get back to full time training?
It was after the Games last year when I was just starting to get back into training. It was probably about the same time as other athletes were getting back into their training after recovering from the Games. So it was perfect timing for me to start ramping my training up.
Do you think you are back to 100 per cent yet?
I'd say that I am. I don't think it will get any better than it is right now but I'll always have to be careful with it. I'd say it is 100 per cent of what it is going to be. It is manageable.
I do a lot of hard work with it and just make sure that I'm not doing stupid stuff with the knee that could put it in a compromised position.
Has this year 2013 CrossFit Open played to your strengths?
Yeah I think the one I was most surprised about was the first one with the snatches. Snatching has never been one of my strongest points. I knew I would be ok with the burpees because I've got quite a good gas tank.
But to be up there and doing so well with a movement I'm not particularly strong at was good to see. I was fine with the lighter weights, it was just the top end weights, so I had to make sure I came off the burpees as fast as I could to make sure I had more time on the heavier weight.
What is your athletic background?
I used to play football/soccer and after that I took up running and started doing duathlons, so it's more of an endurance background. I think that's what helps with the endurance side of CrossFit.
Also, while I've been injured, obviously not being able to squat, I've spent a lot of time improving my gymnastics.
What's your diet like? Are you Zone, Paleo or do you take any specific supplements?
Yeah I take vitamin D and fish oils. I take a clean approach when it comes to my diet. It's pretty much Paleo but I'll still have dairy.
I don't tend to have a scheduled cheat day. I'd rather eat cleanly, and then if I fancy something, I'll allow myself to have it.
Talk to me about your sponsors and why you chose to sign with them?
I have been with PurePharma from the beginning of my CrossFit career simply because their high quality O3 fish oil really helps me with recovery and they have supported me even through my injury!
For post workout recovery I use Progenex, which is lucky they wanted to sponsor me. I have tried various brands but I seem to recover quicker after those hard training sessions or competitions when I've had my Belgian chocolate treat.
When I injured my knee I was trying all the remedies under the sun when GLC2000 approached me and asked me to try their high concentration glucosamine, which has allowed me to push my knee harder than ever before.
Finally I've just signed with Reebok. With them being the main sponsor of the Games, I felt as an athlete, they could offer me the support I needed to train for the Games this year!
Who do you think are the big names coming out of Europe this year?
I think it's always going to be quite hard. Obviously Annie will be taking one of the spots, and hopefully I'll be taking one of the spots.
Katrin (Davidsdottir) who went to the Games last year has been doing well in all the workouts, so I assume she'll be up there again.
As far as the other people go, a lot of the names of people who have been doing well are relatively unknown.
I think it'll be quite interesting at Regionals to see what happens and I think it'll be quite a good battle going on.
Finally what are your goals for this year?
My goal for 2011 was to get a top ten finish and I got fourth. If I could get something like that coming back from injury I'd be more than happy.