This week, we take a moment to review the high performance Vitamin C supplement from Altrient.
Item: Altrient High Performance Vitamin C
Price: $39 for carton of 30 sachets
Manufacturer: Altrient
Purchase: www.Altrient.com
Working out day after day, week after week, month after month, we are consistently putting out bodies through stress. High intensity WOD's like Fran, Murph, Wood and many others can start to really take its toll after a while.
As CrossFitters, we often say, "Your workout is our warm up". Yet our devotion to constantly varied, high intensity, functional movements mean our bodies are in a never-ending state of deterioration and regeneration. We ask a lot out of ourselves, so getting the right nutrition, supplements and vitamins is essential if we want to continue to PR.
With so many nutritional supplements available for athletes today, it's hard to know exactly what we should be taking. For CrossFitters, there is such an emphasis on fish oil, protein, creatine, glutamine, and countless others, that we often forget some of the most basic and essential vitamins, like Vitamin C.
As we all heard growing up, Vitamin C can help protect our bodies from illnesses by boosting our immune system. But, it also has an amazing ability to protect muscle cells, making it easier for them to recover and grow.
I've tried a wide range of Vitamin C supplements: from chewable tablets, pills, powders, to mix-in crystals. You name it; at some point in my life I've tried it. Some have worked well, while others simply left me feeling a little lighter on the pocket with little to no performance gains.
While I have had some positive results with a few Vitamin C products, none of them have ever been able to match the benefits I obtained while taking Altrient C.
Altrient is a high performance supplement maker, based out of Las Vegas. The brand is making it's way into the CrossFit community, being one of the major sponsors of the 2012 CrossFit Games, and sponsoring the 15th Fittest Woman on Earth, Cheryl Brost.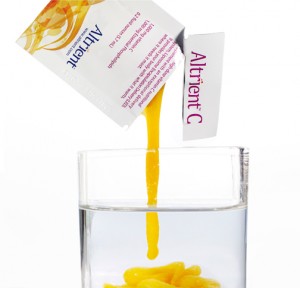 When I spoke to Cheryl at the Games, I specifically asked her about Altrient and she provided me with such a glowing and positive endorsement that I wanted to try it then and there. She really does believe it helped her recovery over the course of Regionals and her overall performance that week. Sure, Altrient sponsors her. But after speaking with her, you can just tell that she really does believe in the product.
During my time at the Home Depot Center, I had the chance to speak to several other people who had tried the Altrient C. Time and time again I kept hearing such positive reports. And in the end, I just had to try it for myself to see what all the fuss was about.
So I decided to make my way over to 'Tent City' where Altrient had a stand. When I first saw the product, I'll admit I was a bit unsure exactly what it was. You see, Altrient C doesn't look like your normal, standard Vitamin C supplements. Unlike other varieties that come in tablets, capsules, or powders, Altrient C is actually a gel type liquid that comes in individual sachet packets.
However, it's this gel form that makes Altrient C more potent and effective than other forms of Vitamin C. Altrient uses a method called Liposome Encapsulated Delivery (LED), which is a dosing system designed to protect all nutrients. This allows them to be delivered throughout your body more efficiently than standard forms of Vitamin C.
I'll be the first to admit, I'm no scientist. And I never did too well in science in high school. But from what I understand the problem with most Vitamin C supplements, is that too much often ends up being wasted by our body. Or simply flushed through your system without being used.
Most ordinary forms of oral Vitamin C, that come in tablets, capsules, powders and liquids are 'water soluble'. The problem with this is that no matter how much you take, the majority of your Vitamin C will be either destroyed by harsh digestive juices, or simply passed out of your system.
Altrient's LED system ensures that it delivers Vitamin C in microscopic bubbles called liposomes that are insoluble to water. This means they are strong enough to withstand the harsh digestive acids. And go straight into your bloodstream.
So I decided to put it to the test. Over the past month I took a daily dose of Altrient C every morning, and after every workout.
The Good
Recovery – I have no hesitation in saying my recovery improved while taking Altrient C. In the past, when I did workouts like 'Murph' and 'Filthy Fifty', it would take me 2-3 days before my body was fully recovered. However, when I was taking Altrient, my muscles would feel better a lot sooner. I also noticed a difference in my match soreness after a game of football. I've played over 300 games in my life and know how long it usually takes for my body to recover. Using Altrient, I noticed much less soreness in my shoulders and back the day after a game. I also noticed many of my niggling injuries seemed to heal sooner, which was really surprising.
Immune System Booster – In the past few months there have been a number of colds and flu's going around work and my footy team. I'm often the first to get sick. But for the first time in as many winters as I can remember, I did not suffer a sniff, cough, flu or cold! Yes, it might just be luck, but I haven't even come close to getting sick. If anything, I have felt extremely healthy during the cold winter here in Melbourne, Australia. Altrient C, with its LED system, has one of the most effective ways to deliver Vitamin C to your bloodstream. Meaning in theory, your immune system should be boosted significantly while taking it.
Good for your skin – The LED system used in Altrient C is also great for your skin, because it promotes collagen. The liposomes found in Altrient C can also be found in some high end moisturizing creams. Liposomes are known to carry nutrients like Vitamin A and Vitamin C to all layers of skin. So, when taking your daily dose, if you get a bit on your finger, don't waste it, feel free to rub it into your skin!
Efficient – As mentioned earlier, Altrient C has one of the most effective and efficient forms of Vitamin C delivery to your bloodstream. Studies show that the LED system used in Altrient can deliver twice as much Vitamin C to the bloodstream compared to other oral forms. Each packet of Altrient C contains 1,000 mgs of Vitamin C. So you know you will be getting a sufficient amount for your body in each dose.
Easy to take – Initially I thought I had to mix the Altrient C with water using a spoon. But after reading the directions (yes, I know I should have done that first, but I'm male so that's my excuse) I realized I was doing it all wrong. All you need to do is empty the contents into a small amount of water, and simply swallow it without any mixing. As Cindy Nachman, Altrient's CEO says, "If you drink it just like a tequila shooter or a whiskey shot, it goes down right." It didn't take me long to get in the habit of taking my Altrient C shot each day. And I must admit, the routine was quite simple and easy to follow. There was no mess, no mixing required and less washing up afterwards.
Here's a video of how to take your daily dose of Altrient C:
The Bad
Taste – While I got used to it fairly quickly, the initial taste of Altrient C is very subjective. Personally, I didn't enjoy the first few doses. Although once I started shooting it, the whole process became quite easy and simple.
Price – Compared to other forms of Vitamin C, Altrient C is on the higher end of the market. A months supply sells for $39 US, but you can reduce that price to $29 if you buy 12 or more cartons at one time (if you had a few people at your CrossFit box who were interested in trying the product, this could be an option). Like I said, I've had countless kinds of Vitamin C products in my time and I can honestly say this is one of the best I've ever tried. So a dollar a day for possibly the best Vitamin C supplement on the market, is more than reasonable. In saying that, if you are budget conscious, finding a cheaper, high quality Vitamin C that you can afford is always an option.
Time – To get the best results, you should take Altrient C at least 15 minutes before eating. Being someone who eats almost every couple of hours, I found it a little bit annoying at first, as I had to plan when to take my daily dose. Although, once I got in the process of having my daily shot, it wasn't really much of an issue.
Conclusion
I should note that Altrient is a sponsor of this website. However, we make no profit, benefit or commission on any sale. In fact, I only chose to review the product because I had such a positive experience with it.
As I said, I have been using it over the last month, which included taking it during my recent surfing trip to Bali, throughout the month of my CrossFit training and over the course of my football season. So it's fair to say I've been very active over the month long period.
Some of you may think, it's only Vitamin C, and ask, "how can you get such great results from it?" To be honest that's exactly what I thought, till I tried it. Not only has it helped improve my overall recovery, but I also felt more positive and healthy while taking it. Sure, I did not put it through rigorous scientific trials. But I think I did put it through the toughest test of all: Myself.
Some people may also say that after hearing all the positive reports, my experience could have been a kind of placebo effect. But I have taken enough supplements in my life to know when my body is getting results from a product. And when it is not.
Scientifically, Altrient has one of the most effective and efficient Vitamin C supplements on the market. And in my experience, I certainly felt the difference when using it. Whether it was surfing, CrossFitting or playing football, my recovery and general well-being seemed to improve while taking Altrient C.
Regardless if you take my word for it or not, one thing's for sure, anyone who cares about performance should strongly consider taking Altrient C. I know I'll continue to.