This week we take a closer look at the Aqua Sphere Vista Swim Goggles.
Item: Aqua Sphere Vista Swim Goggles
Price: $20-$40 USD or $40-$60 AUD
Manufacturer: Aqua Sphere
Purchase: www.aquasphereswim.com

Over the past few years, we have started to see an emergence of 'water' based workouts introduced to the sport of CrossFit.
In the 2011 CrossFit Games, competitors, for the first time ever, were required to swim more than 200-meters in the opening event. In 2012, the opening event once again included a swim during Camp Pendleton.
But it's not just the CrossFit Games doing it. A few affiliates across the world are now also including 'water WODs' into their weekly schedule. So that's why I've decided to write a review on a pair of swim goggles this week.
Having competed in numerous triathlons, and dozens of open water swim competitions, I've worn many different pairs of goggles in my time.
While many have been good (and many very bad), it was only this year when I finally found the perfect pair of goggles.
It was just over a year now, I went for a swim with a friend of mine, and used his pair of Aqua Sphere Vista goggles. After one lap, I had decided to buy a pair for myself.
Aqua Sphere has been involved in the fitness industry for a long time, and specialize in swim gear for fitness swimmers and triathletes.
You might have seen a few CrossFit Games athletes this year wearing a pair of their goggles during the opening triathlon. I remember seeing Austin Malleolo, and a few other competitors wearing a pair just before they hit the cold water at Camp Pendleton.
I've been using a pair of Aqua Sphere Vista goggles for the awhile now, and so far I can honestly say, they are the best pair of goggle I've ever worn. Here's why: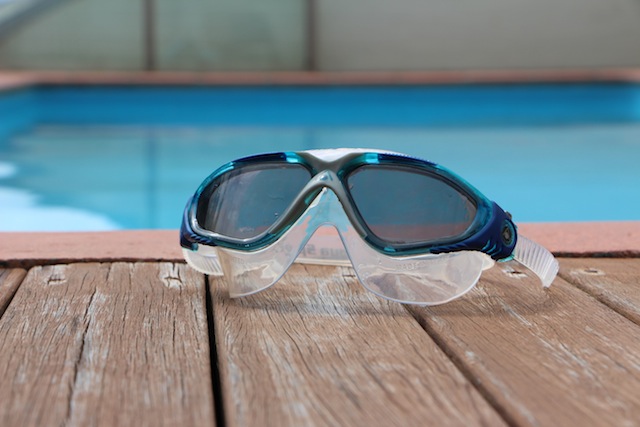 The Good
Feel – By far these goggles are the most comfortable pair of swim goggles I've ever worn. Unlike other cheap pairs, Aqua Sphere ensure all their goggles are made from smooth materials that don't itch, scratch, or irritate your skin. I've used my pair in swims longer than 2-kilometers and not once did I feel any kind of discomfort. In addition, I have quite a large nose, meaning that I find it hard finding a pair of goggles that doesn't press down onto it, and leave marks on it when I'm done. The Aqua Sphere goggles have a great flexible, strip of rubber than runs form one lens to another, to allow them to sit comfortably on my nose.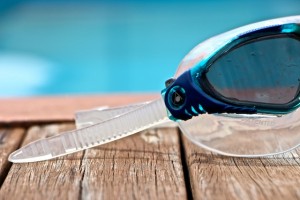 Easy to Adjust – This is by far the biggest and best selling point. Put simply, they are the easiest goggles I have ever come across to adjust and put on. There is nothing more frustrating then getting to an event or showing up at the pool only to spend 10 or even 15-minutes fiddling with the straps. With Aqua Sphere Vista goggles this is not an issue. They use a design called the Quick-Fit Buckle to make it easier for you to tighten and loosen them. There is a push button catch mechanism on both sides, so if you want to take them off, all you need to do is push down on the buttons and pull. To tighten, it's as simple as pulling the strap on each end until you find the right feel.
Large Visibility Area – Unlike other goggles, this pair has a very large visibility area. Many pairs I have used in the past have a restricted area for me to look through, meaning it was hard for me to identify other competitors during events, or even see them as they swum up behind me. Wearing the Aqua Sphere Vista Goggles, I have an improved visibility area, and can see much more while in the water and on land.
No Water Leakage – It sounds simple, but I have had so many pairs of goggles that leak water into them while in the water. There is nothing more annoying then competing in an open water swim and having to put up with salt water splashing around inside your goggles. My Aqua Sphere pair has rarely let water in. There has been the odd occasion when I have been hit by a few waves and had some water come in, but overall, I have never had a real issue with water leakage.

The Bad
Lens Scratching – Probably my biggest gripe with the Aqua Sphere Vista goggles. I've gone through three pairs of these goggles now, and every pair has had light scratching inside the lens. I'm not quite sure if its scratches, or just the lens deteriorating, but it has started to affect the visibility slightly. It has happened so many times I feel this has to be a manufacturing defect. I took the first two pairs back to the shop I purchased them from but after it happened a third time, I have come to the conclusion this is just a problem with this range.
Price – If you are looking for a budget pair of goggles, then you might want to try a different pair of goggles. The Aqua Sphere $50-$80 in Australia but in saying that I know they are much cheaper in the US (retailing from $22-$40). While it might be a lot more than a cheap $10 pair from your local swim club, they'll probably outlast a few pairs anyway, and are well worth the price.
Leakage – I did mention above there is no water leakage. Although that is not to say I have never had any water get through at all. These goggles do form a great seal but there have a been few times over the year where water has seeped through. By no means was this a big issue, in fact it happened so infrequently I was not sure if I should mention it at all. Although I did not want anyone to think these will keep 100% of water out 100% of the time.
Conclusion
The Aqua Sphere Vista swim goggles are by far the best brand of goggles I have ever used. Whether it be swimming in a pool, or tackling waves in the ocean, I have only had positive experiences with them.
If you are a serious CrossFitter and keen to work on your swimming and other water strengths, then I would have no hesitation in recommending these goggles.
While they might be on the higher end of goggles in terms of pricing, they are well worth the money spent, and I doubt you will regret the purchase.
[wzslider transition="'slide'"]