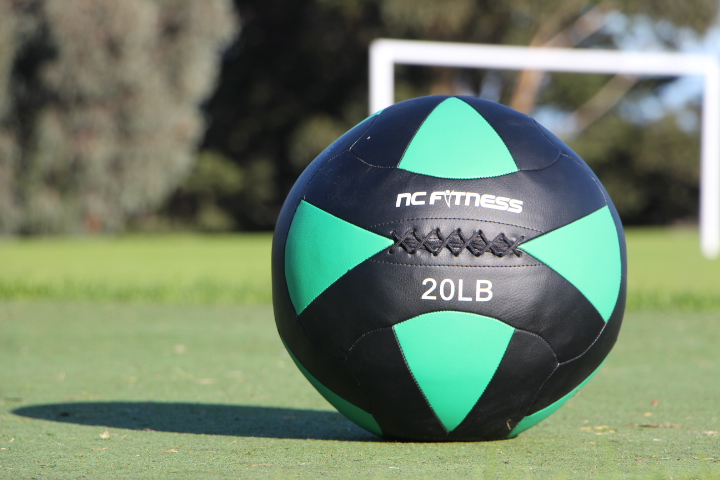 This week, we take a moment to review the NC Fitness Gear 20lb Wall Ball.
Item: NC Fitness Gear Wall Ball
Price: $75 AUD ($65 for 8lb, $70 for 14lb)
Manufacturer: NC Fitness Gear
Purchase: www.NCFitnessGear.com.au
Pain. That's the first thing I think of when I see the words 'wall balls'.
For many people, muscle-ups, handstand push-ups and overhead squats are some of the most feared exercises when training, but for me, the simple task of squatting down, throwing a ball against a wall and catching it, is enough to make me cringe in pain.
Wherever I can, I avoid workouts with wall balls in them, especially the dreaded 'Karen', which is why it's taken The Rx Review this long to post it's first detailed review on a wall ball.
When I first started CrossFit many years ago, I didn't think there was much to a wall ball. As long as I could throw it, catch it, and it met the weight requirement, it was good enough for me!
Now, after years of dreaded workouts involving the exercise, I'm well aware of what makes a good wall ball, and what makes a bad one.
Luckily, over the past few months, I was able to review one of the better wall balls on the market: The NC Fitness Gear Wall Ball.
For those who aren't familiar with the brand, NC Fitness is a company operating out of Melbourne, Australia. The brand specialises in a number of fitness disciplines including boxing and functional fitness. Over the past year NC Fitness Gear has slowly built a positive reputation in the fitness industry, supplying quality products at competitive prices. Their range of wall balls is no different.
Over the past few months I put a 20 pound NC Fitness Gear Wall Ball to the test in a number of workouts indoor and outdoor, comparing it to some of the other leading 'wall ball' brands including Dynamax.
Here's what I thought of the NC Fitness Gear Wall Ball: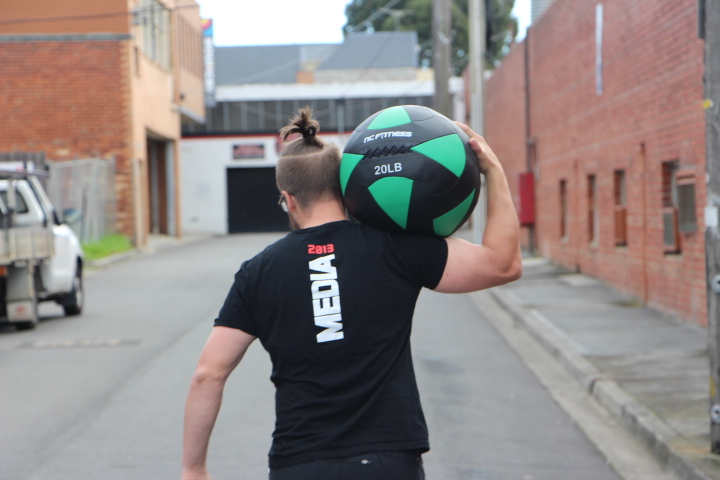 The Good
It feels light – It's funny how the mind can play tricks on you at times, especially when it comes to using a wall ball. An old, lopsided wall ball will often feel a lot heavier than a brand new, primed ball, even though they both weigh the same. In my opinion, the NC Fitness Gear Wall Ball felt a lot lighter than some of the other balls I used over the past few months. I was testing a brand new wall ball, however, so naturally it was more balanced than some of the older balls I used. That being said, it held its form very well during the review period and I honestly felt it was a lot 'lighter' to use than many of the others I used during the period.
Balance – As I mentioned before, the NC Fitness Gear Wall Ball held its shape well over the review period. I tried many things to make sure I gave it a thorough test, including sitting on it for hours, slamming it on the ground, training in the rain with it and even dropping it off balconies to see how well it held its shape. It's fair to say it passed the test! While I would like to see how well it fares after a year of use, so far it is yet to become 'unbalanced' and still feels lighter than most other wall balls I use during training.
Double stitching – The last thing anyone wants while 'wall balling' is having sand fly into their face and eyes while trying to catch it. I've used some cheaper balls in my time and on a few occasions have had sand fly into my face due to poor stitching at the seams. NC Fitness Gear has done a good job of ensuring this doesn't happen by using solid, double stitching in the ball's design.
Durable – Like I said previously, it's hard to judge how durable a product like this is until you put it through a year of solid training. However, in my short time of testing the NC Fitness Gear Wall Ball, it appears to be a durable and sturdy product. It feels tough in your hands and you certainly don't get a sense of 'cheapness' while using it.
No loose material – The NC Fitness Gear Wall Ball is rounded with no bits of loose material hanging off. One time I had my pinky finger caught in some loose material hanging off another wall ball I used and it literally sprained my finger! So, personally, I'm not a fan of wall balls that have loose material hanging off them. The NC Fitness Gear Wall Balls do not come with any loose bits of material flapping around like some Dynamax balls do. So in my eyes, that's a positive!
Price – As well as being a solid, reliable and durable product, the NC Fitness Gear Wall Ball is also fairly well priced. Selling between $65AUD and $75AUD (depending on what weight you purchase), these wall balls are cheaper compared to some of the other rival brands on the market, and are definitely great value for any fitness enthusiast.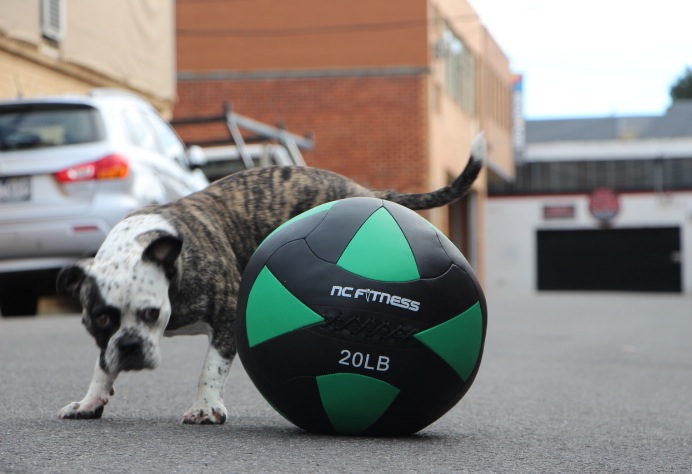 The Bad
Grip – I used the NC Fitness Wall Ball in a number of outdoor workouts, sometimes in the rain. Of course, it's going to be harder to grip a wall ball when the ball and your hands are wet, however, it did occasionally slip through my grip and hit me in the head (maybe that's my punishment for training in the wet!). I also noticed that in some cases where my hands were sweaty the grip was not as great as some other balls I had used before. The good news is chalk is an easy fix for this problem!
Lack of customisation – Unfortunately NC Fitness Gear only offer the one colour for each wall ball in their range. While they are colour coded to be able to identity different weights, it would be good to be able to choose your own colours, especially if you're looking at starting up your own CrossFit gym. It would be good to see NC Fitness Gear offer the same customisation Dynamax do for their wall balls, where customers can choose their own colours.
Tough for Customers Outside Australia – NC Fitness Gear is an Australian brand, based out of Australia. So for customers outside the region it is a little harder to get your hands on this product. Unfortunately, the brand does not ship internationally, and only has limited services for customers in New Zealand. It would be great if they had an American, or European distributor to allow the rest of the world to have easy access to their range of products, especially their wall balls.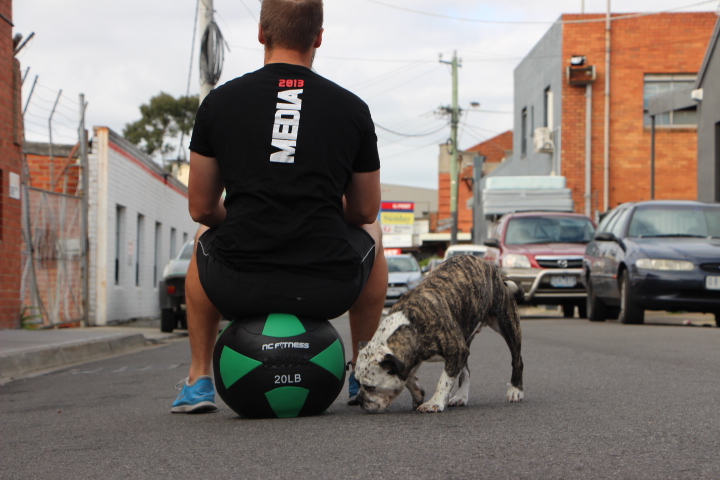 Conclusion
Overall, in my few months of testing the NC Fitness Gear Wall Ball I'd happily recommend it to other athletes and CrossFit gyms looking to stock up their supplies. Not only is it sturdy, reliable, consistent and durable, but the NC Fitness Gear Wall Ball is also quite affordable. Selling for $65 – $75 these wall balls are great value.
Compered to some of the other wall balls I have used, I'd easily put this up there in the top end of products and found it quite hard to pick too many faults with it.
I must note, however, that at the time of publication I had only tested the ball for a few months, so it's hard to predict how sturdy, and how good it will hold up when used for longer than a year. It's often in the later years of a wall ball's life where we start to see some problems and issues, but going on what I have experienced so far with the NC Fitness Wall Ball, I predict it will hold up fine.
If you are looking for a good wall ball that is affordable and will tick most of the boxes, then the NC Fitness Gear Wall Ball is a great purchase and I'd happily recommend it to other fitness enthusiasts.