This week we take a closer look at a pair of women's functional fitness shoes: the Nike Free 3.0.
Item: Women's Nike Free 3.0
Price: $110 USD or $160 AUD
Manufacturer: Nike
Purchase: Nike US/Nike AUS
Selecting the perfect pair of runners is like finding a good boyfriend (or girlfriend). First, you have to go through a process that usually looks something like this: You pick them up at the store. You think they're great. Then you take them out one night for a test run and decide you want to return them.
If they are not the perfect pair, chances are you were underwhelmed with either the look, feel, size or fit. You might be happy to compromise on one or two of these categories, but anymore would be a dealbreaker.
The reason I know this is because I have been wearing the same shoes for both running and rowing for over a year now. While it is not the perfect relationship, it comes pretty close to satisfying several of these categories.
So what are they? My feet have gone the dating distance with the Nike Free 3.0. These running shoes are advertised as the "closest to barefoot running that Nike has offered." Sounds like a match made in heaven for the average CrossFitter and passionate runner right?
As with any strong bond there comes a time for nitpicking, so here is the full review below.
The Good
Weight: These shoes are very light. We compared them to four popular shoes used by CrossFitters and they were lighter than all, except the Vibram Five Fingers. We weighed a single shoe in Men's US size 10 for each of the following. The Reebok CrossFit Nano 2.0 weighed in at 281 grams. The New Balance Minimus 10 was 217 grams. The Nike Free 3.0 was 198 grams, while the Vibram Five Fingers TrekSport was 159 grams. Funny enough the shoes was light enough we got it to float on water.
Flexibility: You can bend this shoe inside out with ease and without damaging it. The flexibility of the Nike Free 3.0 has to be one of its best features by far. It means your feet are uber mobile when exercising and really does give you that "free" feeling.
Tread: Of all the things I expected to be a disappointment on the running track, tread was at the top of the list for this barefoot shoe. However, I was humbled to find that the tread actually lasted the test of time. It has a solid rubber grip at the medial toe and after using it for over a year the grip is still strong.
Breathable: When running, rowing or simply taking a leisurely stroll the Nike Free will no doubt be a comfortable ride. The mesh sleeve is soft on the inside and won't suffocate the feet on those hot days.
Price: If you're buying these shoes in the US you can pick them up on Amazon for as little as $75 USD, which is pretty good in comparison to other running/cross-training shoes. If you're in the expensive land of OZ, you won't be as lucky. The Nike Free 3.0 retail for $160 on the Australian Nike website. Although considering Vibrams Five Fingers run in excess of $200 plus in Australia, I guess we just pay more for living down under.
Colour: I like the colour range of these shoes so much so that I had a long internal battle with myself about whether I should buy the black with the light blue tick or the purple tick (a tough decision of course).
The Bad
Fit: When I first tried these shoes on they ran true to size. But over time and after wear and tear they have stretched a considerable amount. I now have too much room at the tip of the shoe where the toes lie. Additionally, they are also a tad too wide for my narrow foot, which wasn't the case when I first purchased them. In fact, they are probably now half or possibly even a whole size too big for me.
Laces: Despite whether you double, triple or quadruple knot these laces, chances are they're going to come undone mid run or workout. The material just does not seem to create enough friction, meaning they often unlace themselves during a WOD, row or run. Although this may seem minor, I can promise you it has caused unwanted frustrations at the most inconvenient times.
CrossFit Incompatible: In my very humble opinion, I found these shoes were simply not the most suitable shoe for functional fitness. On top of the fact that the laces continually came undone, I think the rubber sole is too pliable and flexible, meaning they are not ideal for any Olympic lifting. This also means they were not very comfortable during exercises like squats and deadlifts. I should note I also wear a variety of Vibram Five Fingers, so I'm comfortable with a flexible shoe, but for some reason I noticed my feet would often cramp when wearing them (that was before and after they stretched).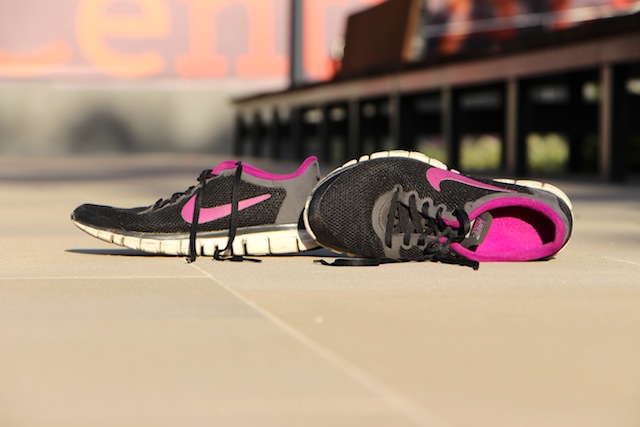 Conclusion
The sole of the Nike Free come in a variety of sizes. Nike give each of their Free range shoe's a number to indicate thickness and level of support. Generally, the higher the number the thicker the sole, and the more support the shoe provides. The ones I have are the 3.0, which at the time were the lowest profile of their barefoot range.
As I mentioned previously, I have been wearing the shoes for a over a year now. For single endurance activities like running or rowing, I think the Nike Free 3.0 are a good shoe. Their flexibility gives them a unique advantage over most competitors, and as far as running shoes go, I have to admit they're not so bad on the eye either.
If you are a running enthusiast or a person who simply wants a basic shoe for the gym, the Nike Free would be a decent choice. If however you are a CrossFitter, I think there are better shoes on the market today.
Make sure you don't miss another Review, Interview, Box Tour or News Wrap. Drop your email address into the box below.
[wzslider transition="'slide'"]