This week we take a closer look at RPM Fitness' first minimal speed rope, the RPM Speed Rope.
Item: RPM Speed Rope
Price: $42 USD
Manufacturer: RPM
Purchase: www.RPMfitness.com

I should start this review by letting you know I am no double-under king.
There is simply no hiding the fact that I have struggled with double-unders since the day I started CrossFit training more than three years ago. While I have improved considerably since 2009, my double-unders are still very much a work in progress, and a weakness I am eager to change.
So when I heard of a company claiming to have the 'fastest speed rope on the market', I was immediately interested in reviewing it.
According to RPM Fitness, their jump ropes are the 'smoothest', and 'most accurate' on the planet, allowing athletes to reach 'record breaking speeds' while training.
I must admit, after reading these claims for the first time, I was a bit skeptical about how accurate they were. However, after doing a bit more research on RPM Fitness, I found out their speed ropes had undergone a bunch of tests, with many athletes and jump rope teams backing up their claims.
Californian Jump Rope Team, Sol Jumpers recently trialled the ropes and had a number of jumpers set new PRs while using the RPM rope.
In addition, I found out a number of top CrossFitters are currently using or have used their speed ropes, most notably 2007 CrossFit Games champion James 'OPT" Fitzgerald.
Fitzgerald was one of the many CrossFitters to test the product in its development stage. During the testing, 'OPT' found his rep-per-minute (RPM) count increased and his muscle fatigue reduced significantly.
One feature he liked most about the product was the rope trajectory.
"Because it (the cable) is not straight away from the handle, it adds a nice spin component to it," he said. "You know it's going around your hand, as oppose to just being straight. It's solid!"
With all this in mind, I decided to test out the rope for myself.
Over the past three months, I used the RPM Speed Rope in a number of CrossFit workouts to see just how fast and effective the product is.
The Good
Fast – Just as they claim, the RPM Speed Rope is one of the fastest ropes I have used to date. The standard, uncoated wire cable is not only light and sturdy but whips through the air with great efficiency. In addition, the rotating handgrips utilize sophisticated technology to reduce friction and ensure air resistance is minimal.
Tested – In terms of speed, Competitive Jump Roper Shane Winsor recently tested the RPM Speed Rope and complete a massive 161 double-unders in a minute. That's more than 2 and a half double unders a second!
Easy to Adjust – Each of RPM's Speed Ropes come with a Hex Key for adjusting sizes. Once the rope is set up and assembled, it's actually easy to adjust and re-adjust the length of rope if required. To change the wire length, all you need to do is remove the end cap, use a Hex Key (included in kit) to loosen a screw, and move the cable in and out to find a desired length.
Slick Design – One of the first things you notice when you pick up the RPM Speed Rope is it's awesome design. The rope comes in a nice little silky bag, like the ones you get when you buy a pair of glasses and also includes a repair kit. The rope itself oozes with quality. The solid black aluminium hand grips are not only stylish but also feel great in your hands, while the wire is light, smooth and easy to adjust (with a caveat that is noted below).
Handles – For me, the knurled aluminium hand grips are one of the RPM Speed Rope's best features. The handles are extremely comfortable to hold and grip very well, even when your hands begin to sweat. Some people who have used the rope have mentioned the handles feel a bit heavy in their hand, and are a little too thin, but personally, I like the weight and have no complaints how they feel. In addition, the handles are made from strong aluminium making them virtually indestructible. I have thrown the rope in frustration, and hit the handles on the ground a number of times — the only damage it caused was a few minor scratches.
Reduced Hand Fatigue – The RPM Rope is definitely one of the thinnest and therefore lightest ropes on the market today. This, coupled with smooth rotating handles, means hand fatigue is significantly reduced while using the rope.
I used the RPM Speed Rope a number of times in workouts like 'Flight Simulator (unbroken reps from 5 to 50 and then back to 5) and 'Rhiannon' (Max double-unders in 20 mins), and noticed my hands, wrists and arms felt a lot less fatigued than when I used other ropes.
Product Range – RPM Fitness also offers a coated cable for those who prefer a bit of durability and extra weight. You can buy a length of coated cable for just US$5 online, while a replacement bare cable will set you back US$3. In addition, if you lose any small parts like a cap or a Hex Key, you can also purchase a 'spare parts' kit for US$7. (I should note the review unit I was sent did not have the coated cable, so I cannot attest to the build or quality of that particular part).
Unique – RPM Fitness have done a great job of coming up with a unique and stylish speed rope. The design is made from a number of components that I am yet to see in other brands, and it seems like RPM have gone to great lengths to develop a more improved and efficient jump rope.
The Bad
Setup – While the RPM Speed Rope is quite easy to adjust once it is set up, assembling the rope the first time can be a bit confusing. The RPM Rope is made from a number of unique components, and there are a number of small a fidgety parts you might not be familiar with.
While there are instructions on their website on how to assemble the rope, there were none in the package I received. As a result, I failed to secure one end of the rope correctly and ended up losing one of the screws before I could even get a double under! I then had to wait for a new 'Spare Parts' kit to arrive before I could begin enjoying the rope.
But having said all this, once the rope is set up, and you are familiar with the product, it is quite easy to adjust and set up.
No Wire Cutters – Unfortunately, the RPM Speed Rope does not come with wire cutters, so when you get your new rope you will have to find your own way of cutting the cable. For some people, that's not an issue, as most pairs of pliers or wire cutters will do the job. However, if you are a city dweller who does not have a tool kit, it means you might have to ask your neighbor, or even buy a new tool to adjust the rope to your desired size.
Wire Durability – While the standard uncoated cable wire is extremely fast, it is made to be use on hard rubber surfaces. My recommendation is not to use the RPM Speed Rope on surfaces like concrete or asphalt as the cable will fray. That being said all wire or rubber coated ropes will fray and wear on those surfaces.
Fidgety – The fact the rope is made of metal wire makes it difficult to pack away. If you plan to hang it up in your box then this is not a problem. Although if you try and place it back in it's black pouch or roll it up to place in your bag, be prepared for the wire to go flying out all over the place from time to time.
Whipping – Remember, the RPM Speed Rope is fast because it is simply an uncoated piece of thin metal wire. So when you start whipping it through the air, keep in mind, it is an "uncoated piece of thin metal wire." Because when you miss, your feet, legs, arms and back may get a shock. I hit myself several times and it was outright painful. That said, if you want a rope that is going to be this minimal and fast, then there really is no way around this.
No International Shipping – Unfortunately RPM Fitness do not offer international shipping for purchases under US$250. So if you live outside the United States, you might have to try other distributors like Rogue Fitness if you want to buy a rope. Although RPM are hoping to add international shipping for single purchases soon.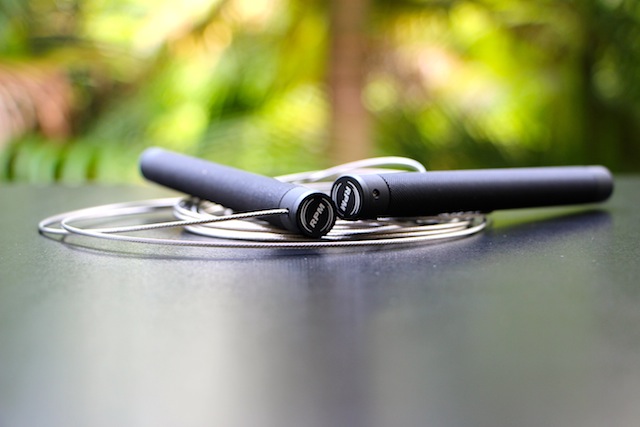 Conclusion
It is important to note this is a fast minimal rope. So while the RPM Speed Rope is great for those who are confident with their double-unders, those who struggle with the exercise may have trouble with the speed and the weight of the rope.
As somebody who still has some trouble with double unders, there have been times when I have found the rope simply too fast. That being said, anyone who has gone from a standard or light rope to something as minimal and fast as this usually finds there is an adjustment period.
Overall and after using the RPM Speed Rope for the past few months, I have no hesitation in recommending the product to fellow CrossFitters, especially anyone who wishes to compete competitively.
Not only is the rope fast and efficient, but it is also stylish and feels great in your hands.
Selling for around US$42, the RPM Speed Rope is on the higher end of the price scale for ropes. While you can find a number of cheaper alternatives on the market, you will definitely get value for money with the RPM design.
Unlike some other jump ropes, the RPM Speed Rope is made from quality materials and, if treated with care, should last for years.
With its high-speed and durable design, the rope is perfect for any CrossFit athlete looking for that extra edge when competing. While beginners may need some time getting used to the pace of the rope, most advanced athletes should find the rope easy to use and should notice immediate improvements.
In my experience, I definitely saw an improvement in my double-unders while using the RPM Speed Rope and now feel more confident with the exercise than I ever have before.
During my time, I have used all kinds of speed ropes; Rx Jump Ropes, Buddy Lee's designs, Again Faster ropes and even some of Reebok's products.
But after using the RPM Fitness Speed Rope for the past few months, I can honestly say it is one of the best jump rope's on the market today.
If you like to find out more make sure you check out the RPM Speed Rope website here.
Make sure you don't miss another Review. Drop your email address in the box below. 
[wzslider transition="'slide'"]