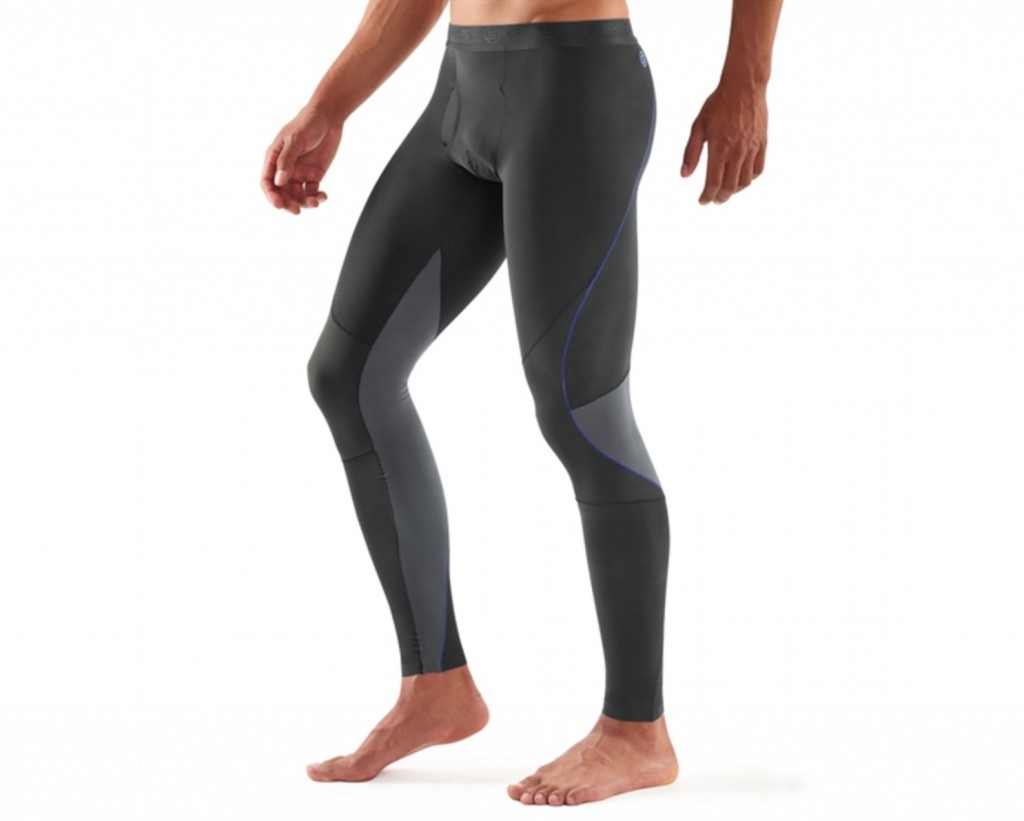 This week we take a moment to review a pair of SKINS RY400 Men's Recovery Compression Long Tights.
Item: SKINS RY400 Men's Recovery Compression Long Tights
Price: $129 USD 
Retailer: Skins
Purchase: www.Skins.net
When it comes to fitness and exercise, recovery is certainly one of my weak points.
I'm the kind of athlete who gets to my CrossFit gym, rushes into the workout, and then tries to get home as fast a possible to eat food and relax on the couch. It's fair to say i've skipped my fair share of 'cool-downs' in my time, and as a result i've often woken up the next day regretting it with sore muscles all over.
So when I heard about a pair of 'recovery' compression tights that can help your body recovery simply by wearing them, my ears instantly pricked. So you mean to tell me there is a pair of compression pants I can wear after training and they will reduce the amount of pain and DOMS (Delayed Onset Muscle Soreness) I experience the next morning? According to SKINS, there are!
SKINS RY400 recovery compression range hit the global shelves in 2015 with compression tights and tops for both men and women. Unlike the brand's other compression items like the A400 range, the RY400 range is designed specifically to aid in recovery and to be worn post-exercise, rather than during training.
According to the SKINS website:
"When you've smashed a triathlon, rowed down the competition, or blitzed that perfect tennis match, you want your system healing and strengthening from the moment your muscles power down.
SKINS revolutionary research has taught us that your compression needs whilst in the height of activity are different to when your muscles are in a relaxed state of recovery. With this in mind, we created the RY400 range.
Put an end to ice baths and wear RY400 for at least 3 hours to get the best results. 400 fit guarantees maximum comfort, so you can even wear them while you sleep to speed up your body's natural recovery process. They're not guaranteed to do much for your love life though."
The RY400 Compression Tights come in sizes from XS to XLL (for men) and are available in a graphite blue/graphite colour. They are made from a nylon/spandex mix to ensure specific levels of elasticity and perfectly controlled compression.
Over the past 6-10 months I have worn my pair of SKINS RY400 Recovery Compression Tights regularly after tough workouts. Here are my thoughts on the item, and weather or not I think these compression tights are a worthwhile purchase.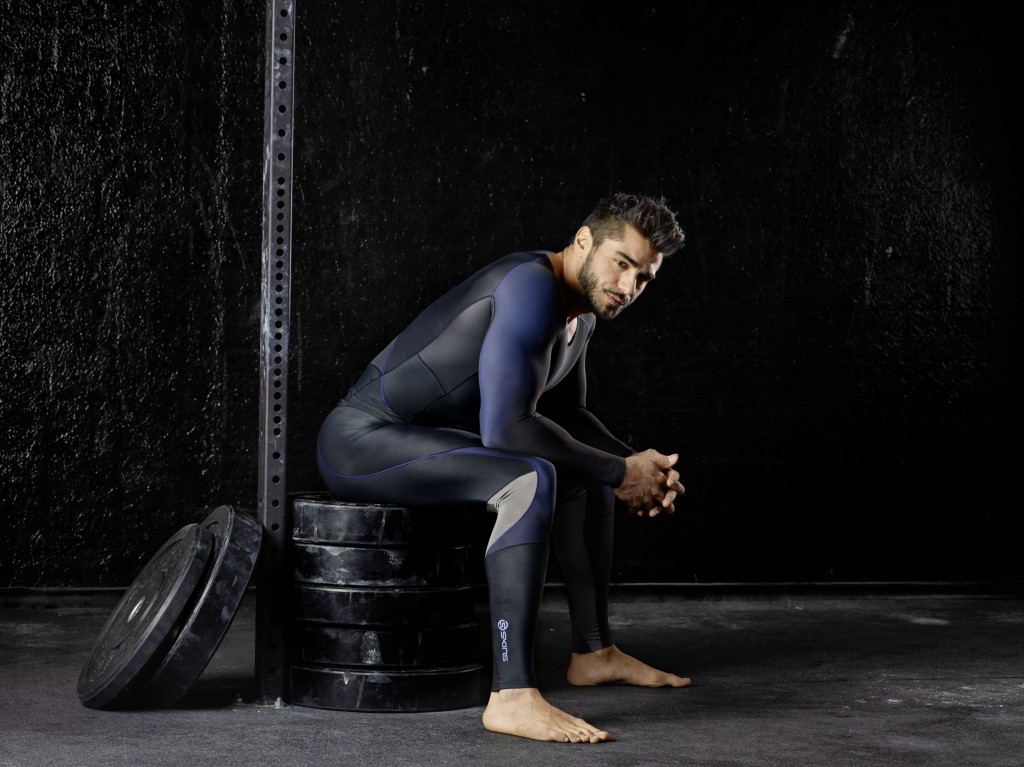 The Good
They work!: I've been wearing compression tights for years now, so i've known for a while the benefits that come with them. What I found particularly unique about these tights, however, is that you are actually supposed to wear them post-workout and even during your sleep to aid recovery and reduce the amount of DOMS you may experience. At first I was a bit skeptical of the claims, but after wearing them for a few nights after tough workouts I started to notice a bit of a difference. After sleeping in the tights I would often wake up in the morning feeling a lot more mobile and agile. My legs also felt 'fresher' and walking up and down my staircase wasn't as dreadful as it had been after tough Hero WOD's like Murph.
Sleep-friendly: Initially I was a bit worried about how my sleep may be affected as a result of wearing these tights to bed. However, they are surprisingly quite comfortable to wear and to sleep in, and they actually kept me snug and warm during those cold winter nights.
Toilet-friendly: The SKINS RY400 Men's Recovery Compression Tights come with an 'emergency patch' at the front groin region, making it easier for men to go to the toilet. Instead of taking the tights down, one can just move the patch over and relieve themselves. It's actually quite a good, simple feature that I'm yet to see in any other compression tights so far.
Durability: The compression tights come with a one year warranty from the time of purchase, which is pleasing for the buyer, but I don't think many people will have to utilise that. I've had my pair of tights for more than six months now and noticed any real rips or tears on them (apart from a slight loss of elasticity – noted below). Now, the tights aren't supposed to be worn during workouts, but despite this I did wear them for a few functional fitness workouts which included Olympic lifting where the barbell would often rub and crash onto my thighs. However, despite a bit of general wear and tear the tights have held their shape and form relatively nicely.
Sun protectant: Bit of a no-brainer really. If you're wearing clothes, then you won't get burnt where they are covering your skin. The SKINS RY400 range is made from fabric that has a sun protection of 50+, which means you can get out and train harder without worrying about the sun related risks.
The Bad
Elasticity: After a few washes I started to notice the tights start to lose a bit of its elasticity. Personally, I actually enjoyed the reduction as I found my pair a little too tight, however, if I was a bit smaller they may have been a little too loose. It's probably a good idea to wash them in a delicates bag or in a 'delicates' cycle.
Obviously it took a few washes before I started to notice any real difference, and to be honest, it's actually something that happens with most compression tights, so it's nothing out of the ordinary.
Price: Compared to some of the other compression tights on the market, the The SKINS RY400 Men's Recovery Compression Tights are quite expensive. Selling for over $120 USD the tights cost a fair bit more than 2XU's range, which starts at $89, and Nike's which begin at $35. That being said, the cheaper versions don't provide the compression or recovery benefits the RY400 range offers.
Hard to keep up: It's a common problem I have with compression tights and pants, but I noticed the tights start to slip down slightly during my sleep and after working out in them for a bit. Walking around the house i'd occasionally have to pull up the tights after they started to slowly slip down.
Hard to get on: One of my criticisms of compression tights in the past has been the difficulty in getting them on and off. On many occasions I've been too lazy to even put them on that i've just trained without them. It'd be good to see SKINS incorporate some loop tags along the legs to make the process of putting them on a bit easier. Once again, it's a small gripe, but one I would like to see in future designs.
Hot: Compression tights are known to trap heat making them hot and sweaty for those wearing them. The RY400 Recovery Compression Tights aren't that bad, but during the hot summer nights I did find them hard to wear to bed.
Conclusion
While there is research to support the benefits of compression tights, science is still yet to determine if they are significantly beneficial to athletes and those wearing them, or just overpriced fitness garments.
Personally, I've had good experiences wearing compression tights for both performance (during workouts) and recovery (wearing after workouts). During training my legs feel a little bit more secure and fresh when i'm wearing compression tights, and I feel I have noticed a slight reduction in post-workout soreness as a result of wearing the RY400 tights after training.
That being said, do I think the results are significant enough to recommend these tights to other CrossFitters? I guess the bottom like comes down to personal preference and money.
If you are a CrossFit Games athletes looking to get that slight edge over your competitors, then i'd surely suggest trying these compression tights. I mean, it's not like you'll experience an increase in DOMS or soreness as a result of wearing them so I think they are certainly worth a try.
On the flipside, if you are a part-time athlete who is also on a budget, then these may be a little too expensive for you. Selling at $129, you may be better off buying one of SKINS cheaper compression tights, or using other more affordable recovery methods.
However, if you did have the money, and were looking at an item that will aid in recovery and help reduce the amount of DOMS, then the SKINS RY400 Recovery Compression Tights are a good option.