This week, we take a moment to review a pair of men's workout shorts from The Brave.
Item: The Brave Men's Workout Shorts
Price: $69 AUD 
Manufacturer: The Brave
Purchase: www.TheBrave.com.au
OK, it's time for another review on men's workout shorts!
A few weeks ago Emma did a review on The Brave's womens workout shorts, so now it's my turn to give you a review on the brands men's workout shorts!
For those of you who aren't familiar with the brand, The Brave is an Australian company, specializing in high quality functional fitness apparel and equipment.
In the past year I've seen many athletes wearing The Brave's gear, most notably the 9th fittest man on earth, Chad Mackay, who is sponsored by the brand.
In the Australian and New Zealand CrossFit community, The Brave have forged quite a positive reputation, so I was more than happy to review their original men's workout shorts when given the chance.
Now, I'm not too fussy when it comes to training apparel, but the one thing I'm very peculiar about is the shorts I wear when I workout.
I've tried all kinds of shorts in the past, from Australian Rules football shorts, to board shorts, to functional fitness shorts. And I've had my problems with all of them. Whether it be size, tightness, length, or just the feel of the fabric, finding the right pair of shorts can be tough.
When I first tried on The Brave men's workout shorts, I was impressed. Not only do they look stylish and clean, they were also the perfect fit, and felt extremely comfortable to wear.
The Good
Size – Hands down the BEST feature of these shorts is the sizing. Short length is super important for me, and the brands designers have done a great job of getting the perfect length. Unlike other shorts that sit below, or just above the knee, The Brave Men's workout shorts give you plenty of space to move and I never felt constrained or restricted while wearing them. At the same time though, the shorts are also long enough to provide protection for my quads. Some shorts can be too short, leaving your legs vulnerable during exercises like dead cleans and kettlebell swings. However, these shorts were not only short enough to give me full flexibility, but also long enough to provide protection for my upper legs.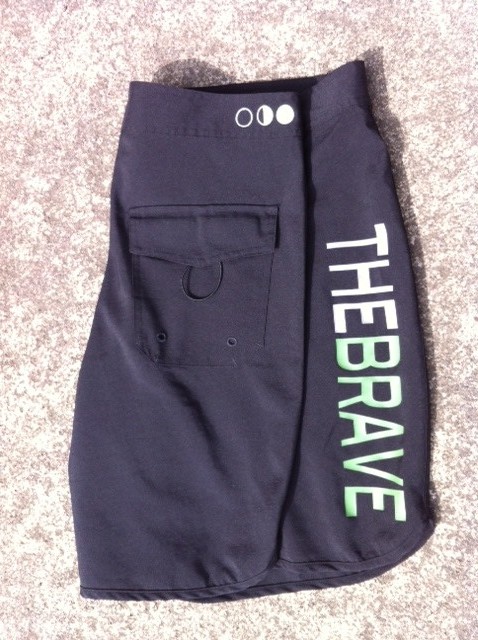 Full Flexibility – Flexibility is essential in a sport like CrossFit, so you want to make sure your clothes don't restrict you. The Brave men's workout shorts are made from 88% Polyester and 12% Elastine. This combination means the shorts are able to 'stretch' all around and reduce the amount of restraint. I never felt any restriction while working out in them and I always felt comfortable doing full depth squats, pistols, burpees etc.
Great Feel – Not only do the shorts have great sizing and flexibility, but they also have a smooth and comfortable feel. The shorts are super light and don't weight down on you like some other shorts I have worn before. I also never had any skin irritation or chafe while wearing these shorts.
Design – I'm a big fan of the design. The Brave have done a great job of making these shorts stylish. The brands logo (which I personally think is pretty cool) is in a great spot and I'd probably look at buying these shorts even if I wasn't into CrossFit.
Breathable – If you're someone who sweats heaps during a workout, you might want to try these shorts. They are light, loose fitting and extremely breathable.
Great for Swimming – I used these shorts during a surf trip in Bali and they were awesome to wear in the water. They still felt comfortable and light when wet, and I'd have no hesitation in using them for swimming or other water sports.
The Bad

Range of Colours – One bad thing about these shorts is the lack of options we have as buyers. The shorts only come in the one design and color. That means if you're not a fan of black, then bad luck!
Secure Feeling – It's hard to class this as a bad thing, but the shorts were so comfortable and light, that I sometimes felt like they would rip and tear easily. While this never happened during any workout, I was still a bit cautious of ruining them while I worked out. Then again, maybe it's because I like them so much and just didn't want to ruin them!
Conclusion
Overall, The Brave men's workout shorts are easily one of the best pairs of sorts I have ever trained in. They are comfortable, light, flexible, stylish and are sized to perfection.
Selling for $65 AUD the shorts are reasonably priced. While some people might go for cheaper options, I believe these shorts are worth every dollar.
The Brave have done a great job of designing a pair of shorts that meets all the needs and demands of CrossFitters. It's clear they know what they're doing in the CrossFit market and I would have no hesitation recommending these shorts to anyone.
You can find out more information on The Brave Project by clicking here.