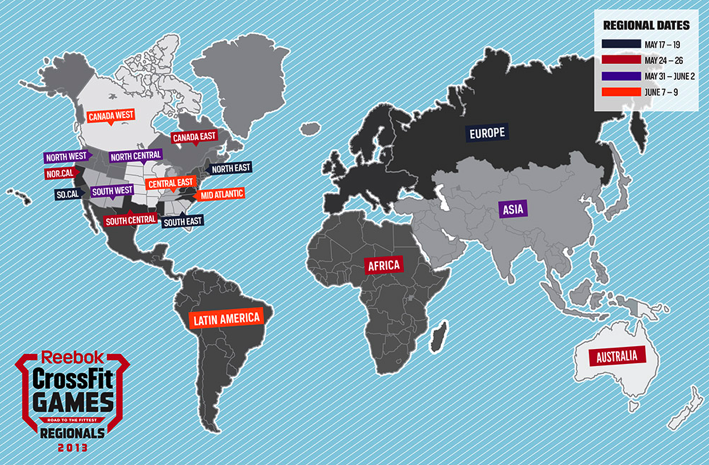 HQ has just announced tickets to the 2013 CrossFit Regionals will go on sale this Friday!
On April 12, 2013 (US Time that is), you'll be able to purchase tickets to all the Regional competitions around the world from the CrossFit Games website.
All you'll need to go is go to this link, and click on the 'Get Tickets' block.
One day of competition will cost you US$15, while the entire three days will set you back just US$40.
If your Regional event does not sell out, you will be able to buy tickets at the door.
Here is a breakdown of the dates and locations for all 17 Regions in 2013:
May 17-19, 2013
Europe Regional
Ballerup Idrætsby 4
2750 Ballerup, Denmark
North East Regional
Reebok Headquarters
1895 JW Foster Blvd.
Canton, Mass. 02137
South East Regional
Palm Beach County Convention Center
650 Okeechobee Blvd.
West Palm Beach, Fla. 33401
Southern California Regional
Del Mar Arena
2260 Jimmy Durante Blvd.
Del Mar, Calif. 92014
May 24-26, 2013
Africa Regional
Bertrams Street Complex, Ellis Park
Johannesburg, Gauteng, South Africa
Australia Regional
Win Sports & Entertainment Center
Corner Crown & Harbour Sts.
Wollongong, NSW 2500
Canada East Regional
6900 Airport Rd.
Mississauga, Ontario
Northern California Regional
City: To be announced
Venue: To be announced
South Central Regional
3201 East Houston St.
San Antonio, Texas 78219
May 31-June 2, 2013
Asia Regional
1093 Hwagok-dong
Gangseo-gu, Seoul, Korea
North Central Regional
600 E Grand Ave.
Chicago, Ill. 60611
North West Regional
625 W. James St.
Kent, Wash. 98032
South West Regional
5662 Cougar Ln.
Salt Lake City, Utah 84118
June 7-9, 2013
Canada West Regional
6111 River Rd.
Richmond, British Columbia V7C 0A2
Central East Regional
717 E. 17th Ave.
Columbus, Ohio 43211
Latin America Regional
Guayaquil, Ecuador
Venue: To be announced
Mid Atlantic Regional
Prince George Learning & Sports Complex
8001 Sheriff Rd.
Landover, Md. 2078