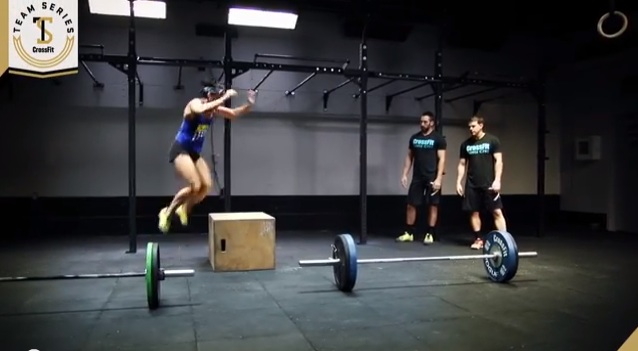 The inaugural CrossFit Team Series is over and the champions have been crowned.
After three weekends of vicious workouts programmed by Games Director Dave Castro that tested every facet of a team's fitness, the top three is made up of the same three that have dominated for the whole competition.
Surprisingly, or perhaps not so surprisingly, neither of the Rogue teams that were packed with CrossFit Games podium finishers, and champions, took the top honours.
Instead, that went to Team Reebok East (Scott Panchik, Ben Smith, Stacie Tovar and Emily Bridgers), which was made up of Games veterans and athletes well-known for their consistency.
The final weekend followed the trend of the first two with four workouts released that tested high-skill strength and gymnastics movements.
Event 9
Teams were put through a leg-busting workout in Event 9 with an ascending couplet of box jumps and heavy squat cleans (155lb/105lb) starting at nine reps that was completed relay style and went up by three reps per round.
It was a chipper-style workout virtually made for Rogue Fitness Black (Rich Froning, Jason Khalipa, Sam Briggs and Julie Foucher) with all four team members able to handle a long grind and the heavy barbell they finished with 369 reps.
Rogue Fitness Red (Camille Leblanc-Bazinet, Josh Bridges, Dan Bailey and Lauren Fisher) came close to taking the workout, but fell just short with 363 reps.
Both Rogue teams proved to be a step ahead of Team Reebok East and CrossFit Fort Vancouver – Green (made up mostly of their CrossFit Games team), which tied for third with 351 reps.
Rogue Fitness Black (369)
Rogue Fitness Red (363)
Team Reebok East (351)
CrossFit Fort Vancouver – Green (351)
PRGNX DarkHorse (344)
https://vimeo.com/108726628
Event 10
Unlike the previous two weekends of competition, athletes weren't tested on their lifting prowess for maximum weight.
Instead, they were given the challenge of maximum reps of chest-to-bar pull-ups, which tested their gymnastics prowess and mental toughness.
Each athlete was given two attempts with a one minute rest between each attempt and, as expected, Rogue Fitness Red dominated on the rig and were the only team to crack 300 reps.
Camille Leblanc-Bazinet made up 89 of the teams 306 reps on her own with 60 pull-ups in 61 seconds on her first attempt and 29 on her second.
Josh Bridges was only narrowly outshined with 61 on his first attempt and 24 on his second to total 85 reps on his own.
Second placed PRGNX DarkHorse finished almost 20 reps behind Rogue Fitness Red on 288 reps and Team Reebok East rounded out the top three with 272.
Rogue Fitness Red (306)
PRGNX DarkHorse (288)
Team Reebok East (272)
Rogue Fitness Black (257)
derby barrel (253)
https://vimeo.com/108783352
Event 11
In a combination of a relay, a chipper and teamwork, Event 11 required teams to progress relay-style through 100 double unders per athlete before they could get on the barbell.
Once there, athletes worked as a team through 100 front squats and 100 push presses as a team (115lb/75lb) before completing 75 reps and then 50 of each movement.
Team Reebok East dominated on the event and proved why they were the top team in the competition with seamless teamwork and exceptional endurance.
All four athletes completed their 100 double unders within four minutes and then proceeded to monster the front squat and push press combo with what was a light weight on the bar for the pros.
Team Reebok East finished in 15.54 and was the only team to go sub-16 minutes on the event, finishing almost a minute in front of second placed Rogue Fitness Red which completed the event in 16.40 with Team Reebok West (Tommy Hackenbruck, Noah Ohlsen, Lindsey Valenzuela and Valerie Voboril) in third with 16.51.
Team Reebok East (15.54)
Rogue Fitness Red (16.40)
Team Reebok West (16.51)
Ute CrossFit Downtown – Team Moxie (17.24)
CrossFit Active – CrossFit Active (17.26)
Event 12
The final event of the 2014 CrossFit Team Series was a nastier, heavier variation on Open Workout 12.2, which saw athletes work through sets of 30 snatches with ascending weights.
In Event 12, athletes worked in female pairs and male pairs through 20 reps of ascending weight snatches that started at 135lb/95lb and finished on 245lb/155lb for max reps with a 10 minute time cap.
It was an event that was always going to favour strong teams with large engines and the bigger men, such as Ben Smith, Rich Froning and Jason Khalipa made the 245lb bar look relatively easy.
Workhorses Team Reebok East and Rogue Fitness Black were the only two teams to get both pairs to the final weight, but it was Team Reebok East that claimed the honours on the last event with a score of 216 to go with the overall title.
Rogue Fitness Red came in third with their female pairing of Leblanc-Bazinet and Fisher completing seven reps on the 155lb bar.
Team Reebok East (216)
Rogue Fitness Black (213)
Rogue Fitness Black (205)
Team Reebok West (194)
CrossFit 417 – ProMO417 (187)
At the end of Competition 3, two teams tied for first place with Team Reebok East and Rogue Fitness Red sharing the top spot.
The CrossFit Team Series has largely been a competition of consistency and that has been demonstrated through the top three teams, which has remained unchanged from the end of the first weekend.
(8) Team Reebok East
(8) Rogue Fitness Red
(15) Rogue Fitness Black
(25) Team Reebok West
(34) PRGNX DarkHorse 
Across the three weekends of the competition in the 2014 CrossFit Team series, the same teams dominated the top spots on the leaderboard and, as predicted, the only change was their order in the top three.
Overall, the CrossFit Games athlete loaded sponsored super teams have entered the top scores on events; however, a few non-sponsored teams caused a few upsets in some events, such as the two rep max bench press, and one, CrossFit 417 – ProMO417, was able to hold onto a spot in the top 5 after an exceptional first weekend of competition.
The inaugural competition has seen some incredible feats of both team and individual brilliance, but after the last rep was lifted, it was a team of consistently high performers, not podium finishers at the CrossFit Games, that can claim the title of fittest team in the series.
Congratulations Team Reebok East (Scott Panchik, Ben Smith, Stacie Tovar and Emily Bridgers) on winning the 2014 CrossFit Team Series!
(4) Team Reebok East – $30,000
(6) Rogue Fitness Red – $25,000
(8) Rogue Fitness Black – $20,000
(18) PRGNX DarkHorse – $17,000
(19) CrossFit 417 – ProMO417 – $14,000