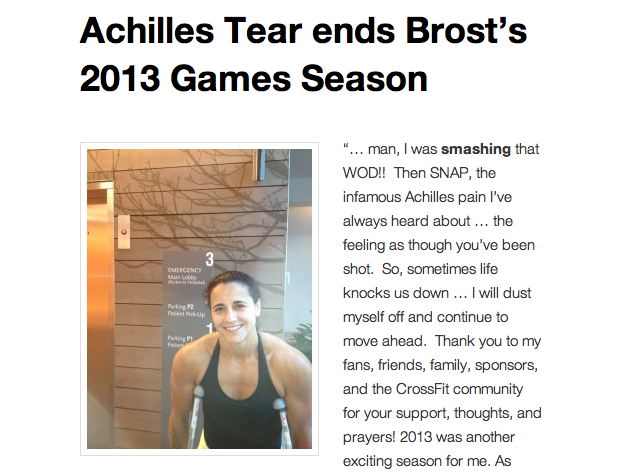 Three-time CrossFit Games competitor, Cheryl Brost, will not be competing at this year's Games, with the 41 year-old withdrawing from the 2013 North West Regional with an achilles injury.
The reigning 15th fittest woman on Earth was sitting in fourth place overall in the Region heading into Event 5. However, she was unable to complete the workout (21-15-9 deadlift/box-jump) after injuring her Achilles during a box jump.
Brost was quickly attended by medical staff and the decision was made that she would not be taking any further part in the Regional competition.
The Altrient ambassador Brost then went onto Facebook to break the news to fans, and also posted this on her website:
"… man, I was smashing that WOD!!  Then SNAP, the infamous Achilles pain I've always heard about … the feeling as though you've been shot.  So, sometimes life knocks us down … I will dust myself off and continue to move ahead."  
"Thank you to my fans, friends, family, sponsors, and the CrossFit community for your support, thoughts, and prayers! 2013 was another exciting season for me. As always, the CrossFit community and staff were first class all weekend at the North West CrossFit Regionals and in tending to my Achilles injury."
"To all athletes competing to claim, "Fittest in the World" … always give it your best shot!"
Having already secured a spot in the new 40-45 year old Masters division, Brost could still compete at the CrossFit Games this year. However, with an injury like an achilles tear, she is expected to spend an extended time on the sidelines, and is unlikely to compete at the Home Deopt Center in July.