You're never too old for CrossFit.
Just ask three time CrossFit Games competitor Cheryl Brost.
Brost was 39-years-old when she completed her first WOD. Seven months later she was named the 13th fittest woman on earth.
In the past three years, the mother of two has made a name for herself as one of the world's best female competitors, and as an inspirational figure in the CrossFit community.
Brost is proof that age isn't always a factor in CrossFit. This year, she competed at the CrossFit Games for a third straight season as the oldest female competitor, and finished 15th overall.
At an age where most people have already retired from sport, Brost is just beginning her CrossFit journey.
John caught up with Cheryl Brost this week to talk about her journey through CrossFit, her secret to staying so fit, and her expectations for 2013.
Well first of all Cheryl, can you tell us about your sporting background?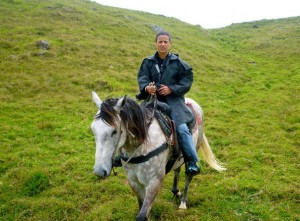 I grew up on a farm. My sister and I used to ride show horses. It was part of the 4H agricultural livestock program and then the National Appaloosa Horse Show Circuit. That was a great start for me in terms of developing good lifelong skills, developing discipline, commitment, training and hard work, and competing nationally.
I also started playing soccer at around six years of age. I participated in gymnastics for about a year and a half until the age of 8. Up through my middle school years I played some other sports like softball and volleyball. I ran one year of high school track focusing on the 800 and 1500. However, my main sports were soccer and basketball, which I played both in college.
So when did you find CrossFit, and how long have you been doing it for?
I'll be celebrating my three year anniversary in one month (on December 7). I actually discovered it through a friend I was playing soccer with. She told me about CrossFit and how she had joined. At the time we didn't know anything about competitions, like the CrossFit Games. It was just something she had been doing herself for a few weeks and knew I'd like it.
I thought it was a good way to challenge myself, workout and be around some pretty neat people, and that's what I fell in love with. It wasn't until a few months later that I learned about the Games. That was in 2010 and we didn't have the Open format back then; we had to compete through the Sectionals, so I thought I'd give it a go.
I had been doing CrossFit for only a few months when I had that first competition but advanced from there. I had another two months of training before the Regionals, and was able to advance again and make my first trip to the CrossFit Games. Here I was competing against some of the best CrossFitters in the world, and I did OK, finishing 13th in my first year.
Did that surprise you, how well you went?
You know, I have always, or at least for the majority of my life, competed in some fashion or another, so competing wasn't new to me. But I guess knowing that I was a little more advanced in age than some of the other competitors, I was surprised about my ability to be able to endure a weekend of tough competitions and grueling events.
On then on the other hand, I've kind of always been a pretty balanced athlete. With playing soccer you get a good dose of endurance training, and then with basketball you get another blend of sprint and explosive training.
How did it feel competing at the 2010 CrossFit Games when you were so new to the sport?
I felt honored to be among that group and my goal was just to be able to compete in every event they offer at the Games, and I was able to do that.
I didn't know anyone going there and they didn't know me. But it was just neat to have the opportunity to be able to meet other people from across the States and across the world and start friendships with them.
It's been awesome to be able to go back these last two years and see a lot of the same faces.
Let's fast forward to the 2012 Reebok CrossFit Games where you finished 15th in the world. Were you happy with your performance?
I think they did a good job of making us do a lot of different things. When I look back at my placings, there are definitely some holes in my armour. Swimming isn't a strength of mine and I didn't do well in that area in 2011 either. Personally, I'd say I've improved a little bit in that area, but so did everyone else.
I think overall my strength is my diversity and skills I can compete with. I'm the type of athlete where I'm decent at a lot of things, but I think with a few of the events they threw at us this year, I didn't place as well as I could have or should have.
You were the oldest competitor at this year's CrossFit Games. What is your secret to staying so fit?
I think recovery is a big issue as you age and I definitely think those athletes in their 40s have a tougher time recovering than someone in their 20s.
But I think if you compare my 41, nearly 42-year-old body, to another 42-year-old body, I think I must be doing something right because I'm able to recover pretty quickly. In fact, since I have been taking Altrient, I have noticed a need for less recovery time when training and competing.
Along with recovery, my willingness to put long hours in at the gym and doing the hard work has helped me improve my fitness.
But having said that, the past six or seven weeks, I've been recovering from a back strain in my lower lumbar/sacrum area, so that's been a new challenge for me.
How is that injury impacting your training?
It's about learning how to train in and around that and allowing myself the time for the injury to heal properly and not to get frustrated about not being able to do certain things in the gym.
I'm trying to look at this injury in the way that it's allowing me the opportunity to work on the things I need to work on. Right now, I can't really pull things off the floor, instead, I've been doing a lot of bench pressing and strict pressing.
Today my workout consisted of 7 sets of heavy bench press. In between sets, I was doing max handstand holds. I can tell a difference already. I'm developing more strength in my shoulder joints and that was something I needed because all year leading up to the Games I was struggling with some shoulder issues.
So down the road, I'm hoping that I can look back at this back strain and see it as a blessing in disguise where it has allowed me to focus and work on something else that needs work.
At this year's CrossFit Games, we couldn't help but notice a big banner in the sky by your sponsors Altrient, reading 'Go Cheryl.' We know you're a spokesperson for the high performance supplement maker, can you tell us a bit about the results you've had taking Altrient?
I have been taking Altrient C for one year this month. There hasn't been a day that I missed taking it. I've been very consistent with it.
I love it because in terms of overall fitness, I haven't been sick at all this whole year. That's really important, not only to be able to train the way you want to train, but also to be able to get the rest that you need so you don't miss any days in the gym.
I think Altrient has really helped with cell restoration, muscle fatigue, recovery, circulation, and with the Altrient ME, I really like the natural energy it provides me each day.
I'm not the type who likes to take a lot of supplements and I remember when I first started CrossFit training someone tried to get me to take this pre-workout drink, I think it was called Buzzerk or something like that. I picked up a small bit of it from my local nutrition store and I don't know how people take that stuff. I felt neurotic, I felt jumpy, like my heart was racing and about to jump out of my chest.
The Altrient ME, is a great antioxidant with all the B complexes as well as all the trace minerals in it — zinc, selenium, chromium, cinnamon extract, niacin and others.
I just found Altrient to really compliment my diet and I feel good taking it.
Altrient's relatively new to the CrossFit scene, how did they become involved with the sport?
They're a small company in terms of who works behind the Altrient doors. They are a mom and pop operation with a really tight knit group that works for them and they just fell in love with CrossFit.
This year they are new to the CrossFit community and they have fallen in love with the sport. Once we got introduced and I started telling them more about CrossFit and the community, they started coming to all the events and competitions.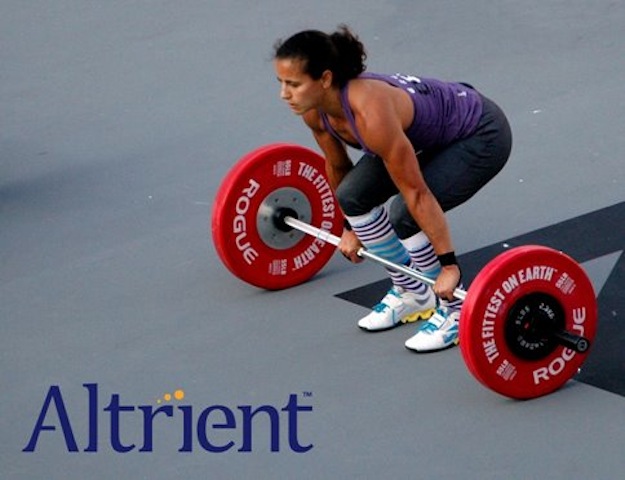 They were at the Regionals and really enjoyed their time there, getting to know people in the community, and they also had a good time at the Games.
I think they have a lot to offer the CrossFit community. Altrient is a company that is full of integrity. They treat people like you would want to be treated and they believe in their product.
If someone tries it (Altrient C or ME) and doesn't like it, they don't care if you send an empty box back, they'll refund your money.
The people behind Altrient feel really passionate about providing a product that is helping people be better, and I think that aligns with our CrossFit community message about helping people be better at life.
I think that message resonates with Altrient because they can see that in what we do as CrossFitters.
Supplements aside, what's your diet like? Zone or Paleo?
I eat a pretty clean diet. I've gone through experiments of going completely Paleo, and then I've gone through periods where I weighed and measured and did more of a zone approach.
I guess what I've come to like the most is a combination of the two. I try to avoid a lot of grains and starches, I'll occasionally eat rice and will occasionally have some bread, but on a daily basis I don't have those regularly.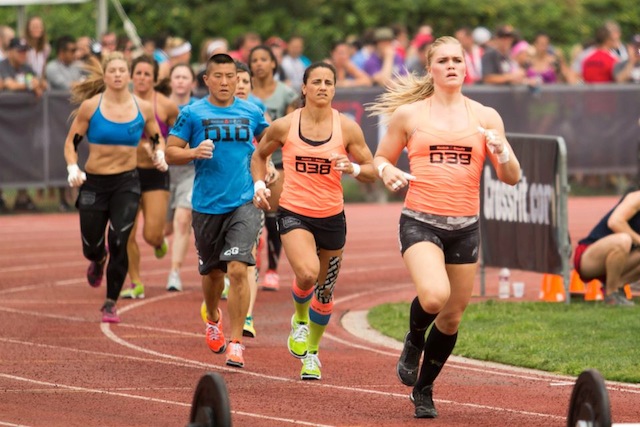 What are your plans for next year? And what expectations do you have in terms of the CrossFit Games?
My intention is to compete again next year. I'm assuming this little back strain isn't going to prevent me from doing that. I'm seeing it start to come around this past week, so I'm having good feelings that I'll be fine.
I'm planning on competing and hopefully I'll have the opportunity to put myself in a position to make a return to the Home Depot Center.
Finally, can Annie Thorisdottir be beaten in 2013?
That's a good question. I believe so … that's one reason we compete.
There's definitely a good number of up and coming women. Talayna Fortunato was solid throughout the whole Games from start to finish and made the podium in her first trip to the Games.
You know Julie Foucher, she's been a consistent performer for so long and now she's going to take a year off for school, so maybe that opens the door for someone else.
Although we have a lot of consistent performers that have been there year in and year out, including myself, Kristan Clever, Rebecca Voigt, Jenny LeBaw, Val Voboril, Lindsey Smith, Elisabeth Akinwale, I mean I can go on and on; there are a number of people that are totally capable of dethroning Annie.
But of course Annie's always going to be right there, assuming she stays healthy and is able to compete.