Neal Maddox made his first appearance at the CrossFit Games as a judge back in 2009.
Today, he is a three-time Games competitor, and widely regarded as one of the best CrossFitter's in the world.
After a successful football career in College, Maddox started CrossFit four years ago and has never taken a backward step.
While he has never finished inside the top ten at a CrossFit Games, Maddox showed his class last year, finishing 6th in the Open, 4th in all Regional events (2nd at the NorCal Regionals), and winning the 'Clean Ladder' at the 2012 Games.
As well as being a top-level competitor, the 35 year-old is also a member of the CrossFit Level 1 Seminar Staff and owner of CrossFit X-Treme Athletics in San Jose, California.
The Rx Review recently caught up with Neal Maddox to find out more about his CrossFit journey.
In the following interview, Maddox talks about his training and diet regime, his expectations for the 2013 CrossFit season, and how this year could be his last as an individual competitor.
Neal many people know you as this larger than life CrossFit athlete. But one question I often get asked about you is what your sporting background was before CrossFit?
In terms of my athletic background, football was my number one sport, but I also tried wrestling as well as lifting a lot of weights.
I played football right up until college, and when I got there I stuck with it.
I went to school in Oregon and played ball for Linfield College. When I was done playing ball there I tried to venture off into the world of professional sports and tried to make a professional team.
I had a number of tryouts and I was on practice squads but it was nothing that really panned out into a professional career. So I was there, and I was at the level, but the only way to get true credit at that level is to have signed an actual contract.
What position did you play?
I played as a safety and a corner.
So how did you find CrossFit?
I had a buddy who came over and he was all like, "I have this workout for you to try out." As it turn out that workout just happened to be "Linda" – three barbells of death!
I guess I got a good time in it too because when I told people what I got they were like, 'wow you got that time the first time you ever tried it!'
It was early 2009, and right when I found out about it, I loved it. So I started researching CrossFit more, and the first thing I found was the video called 'Nasty Girls', which was with the original girls like Annie Sakamoto and all them. They were throwing down real hard and watching it I was just happy and excited about it and I thought this is something I want to do.
So I applied for my Level 1 and within a month I was right into CrossFit. Back then I wasn't aware about the CrossFit Games, or I would have competed in 2009. I found out about it after the NorCal Regionals and it was too late to compete.
As I couldn't compete I chose to be a judge instead. So I was a judge at the 2009 Games, and that was when I realized this is what I want to do.
What was the feeling like being out there at Aromas as a judge and not a competitor?
I just remember telling Dave Castro specifically, "I'll be here competing at the Games next year".
Then Greg Glassman came walking in and I met him for the first time. I also told him I will be competing for the first time next year, and I'll never forget the moment I said that to Greg because he looked me right in the eye and said "I believe you."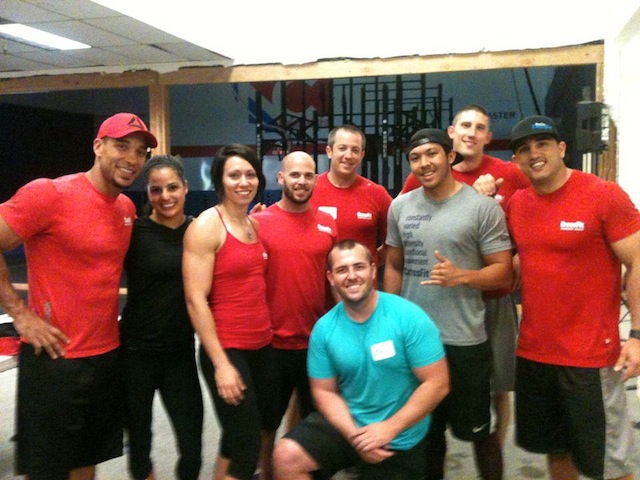 2013 will now be your 4th season attempting to qualify for the CrossFit Games. Do you believe qualification has become more difficult?
People don't realize how tough it is to qualify for the Games. I don't think a lot of people understand just how hard it is.
A lot of people see the Games for the first time and want to do it, they want to compete, and believe they can do it. And I mean that's a great attitude, but the people nowadays who are training for the Games, they are dedicating their life to the sport. And I mean they eat, breath and sleep it!
You're in your mid 30s now, do you think you are at your athletic peak yet?
I'm 35, turning 36 this year, so I'm a few years away from Masters believe it or not.
But I'm just having fun with CrossFit and it's one of those things, I compete and I'm still hitting PR's! So does that mean I've hit my peak if I'm still improving?
I don't know what the limit is, but I know that somewhere down the line there is going to be some effect of the natural process of life, and I know that's going to happen eventually. But right now I feel good.
I remember speaking to Rob Rolando at the 2010 CrossFit Games, and asking him when he thought he was in the best shape of his life. He said at the age of 35 and 36.
How long do you think you can keep going for?
Well, in all the years that I've been involved with CrossFit, this is probably going to be my last year competing as an individual, no 'ifs', 'ands' or 'buts'. I'm going team after this year if that is available.
Being 36 years old, I just want to be able to continue a little bit different. I've doing all these competitions on the side with teams and it's fun. There is really no stress; you're working for your partner.
When you're out there and you're doing the Games by yourself, guess what? It's you by yourself.
I've played team sports all my life and when you play team sports, it's just fun. I'm a team sports type kind of guy. And I mean Tommy Hackenbruck has had success doing it.
I like when you see all the events as a team and you get to pick who does what in each event. You get to put team members in events where their strengths shine and that's what I want to try and be more involved with.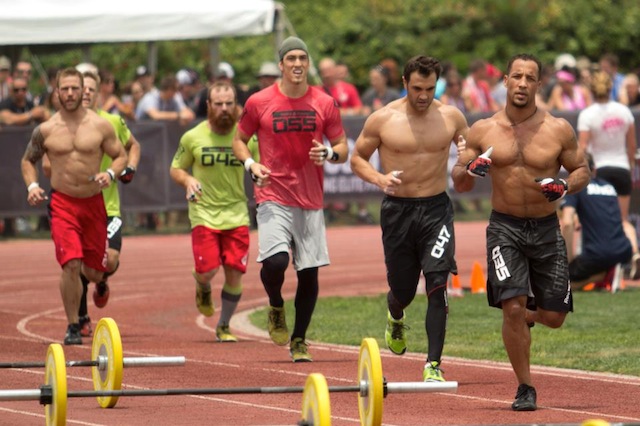 So this will be your final year as an individual competitor in CrossFit?
Everything can change, so read that open. I mean depending on how I do this year, everything can change, who knows. But I am training my butt off.
I believe that the OC Throwdown let me know that I'm in pretty good shape this year, and I'm ready to go out there and give it my all. If the cards are played right and everything falls into place then hey, I might go around again.
Let's rewind the tape to the 2012 CrossFit Games. You finished 20th overall, were you happy with your performance?
It's just one of those things with CrossFit, you just don't know what you are going to get. From competition to competition, you just don't know if the right workouts are going to be called at the right time, and if you're going to do well at them.
On the most part, I think I underperformed to my standards at last year's Games. But it's just one of those things, you go there and you hope for the best, you wish for the best and you work your butt off to do your best.
It really comes down to peaking at the right time. Sometimes I think athletes peak at wrong times. What I need to figure out, and I'm working on, is to try to peak at the Games as opposed to doing really well at the Open and doing really well at the Regionals.
If you look at my numbers, my numbers don't lie. I performed at the Open (6th) and at the Regionals (2nd in NorCal Regionals and 4th overall). But it's about peaking at the right time and not being overworked.
What people don't realize is that from February to July, you put in so much work and so much effort. But sometimes if you put in too much work you can burn yourself out, and when you burn yourself that's when you're on the backend.
Everything has a curve, and you're going to peak and there will be sometimes when your peak is gong to be low. Now it's just about making sure I'm peaking at the right time.

I remember chatting to your training partner Jason Khalipa at the 2012 CrossFit Games, and he said that he believes you have the ability to win the CrossFit Games. Do you agree with him?
I believe that anything is possible. There's a book that I'm reading called the 'Battlefield of the Mind' (Joyce Meyer) and it's amazing. It's all about the self-talk you do with yourself.
There are times when you're feeling good, you're believing and you're rolling and things are going great. And sometimes you have times when your mind will say things and maybe doubt something. And if you have an ounce of doubt, you are toasted, you're done. Especially in the game of CrossFit, you have to believe in yourself on every level.
When you train at this level, you build the capacity to be able to do all CrossFit movements and skills. Now it just comes down to the mental aspect of how long you can push your body to do it for.
So that's the biggest thing I'm looking at right now, just making sure that I make every approach positive, and that every approach has a positive aspect instead of having any doubts or negative outlooks.
You can't control what other people do, or the events, but you can control yourself and how you perform.
Talking about training, can you take me through your standard training week? Nowadays athletes are doing double and triple training sessions a day. Is that something you do?
I don't really do doubles at all, unless it's something like this weekend where I was with Jason (Khalipa) and Rich (Froning) and Dan Bailey and all that. I just try to have a nice solid training session.
When I say a solid training session, I mean a session that's roughly an hour and a half. If I feel good and want to do something a little later, I'll do something later, but I'm not doing multiple met-cons every day.
That's the thing that is a key to my success, because before I thought I had to do what all the other guys were doing, and that was 2, 3, 4, 5, 6, 7 workouts a day. But that's just not the way my body operates or how it competes.
I kind of figured that out when I was doing the OC Throwdown this year.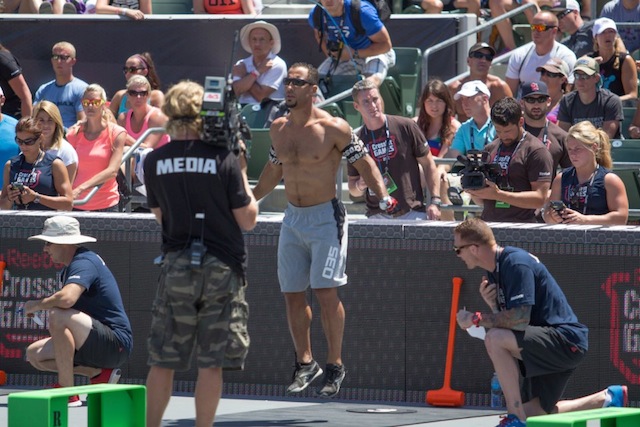 Let's talk about the recent OC Throwdown where you finished 2nd overall to Kenneth Leverich. What were your thoughts on how you went?
The OC Throwdown is a good stage, but it's not the big stage, it's kind of like a fine tune-up.
For me it was just to feel where I am at and to see where I was at in the off-season. It was just to gauge how much time and how hard I'd need to push in order to be ready for the Open.
I was happy with my result, and it showed me what I needed to work on and it showed me what I'm pretty good at.
The issue of drugs in sports has been all over the news headlines of late. What are your thoughts on performance enhancing drugs and CrossFit?
Right now they have a drug testing policy in place and every year it's funny because they always drug test me the most I feel! (laughs)
It doesn't bother me at all. I hope they continue to do it, and I hope they keep getting better tests and they test for everything.
Of course it's possible that other athletes are using drugs, especially when the money becomes big. If you look at what's happening in all these other sports now, it's just amazing.
You just never know. You never know what people are willing to risk in order to shine. I believe in hard work and being disciplined in what you do. But you've got to work your butt off to get there!
Being in a society where people want everything now, people have to realize that a lot of athletes who are competing now have had years of some type of training in some type of sport, or there is something that they did that led them to this point where they have developed in CrossFit and got to the Games.
We recently saw you have a thing for donuts but what is your daily diet like?
I've been participating in sport and CrossFit for a long time now so I know what's healthy and I know what's not.
I eat good for the most part, but there are times at night where I feel like I'm not getting enough calories and I'll have something that's going to give me a calorie boost.
I do believe in a combination of The Zone/Paleo, but not in the extreme of how people are doing it these days. I believe in measuring and weighing my foods. I also believe in eating nice, clean product and trying to stay away from processed stuff.
During the day that's how it is, but at night, if I want a donut or an ice cream, I know it's going to give me a little bit more bang and a few more calories.
What are your expectations for the 2013 CrossFit Season?
The goal every single year is to win the Games, that's what I'm training for. Do I believe I have to ability? Yes.
I've got to compete and workout with the best CrossFitters in the world and I know where I stand on the big stage. There are a lot of great athletes, but I believe that I'm right there with them in that CrossFit realm.
I know it's early days now, but who do you think will podium at the 2013 CrossFit Games?
It all depends on the workouts. And you just don't know who is going to be there.
This is what I figure, there are 20 of the top 40 who are going to have the opportunity to fight for the number one position, or at least a podium position.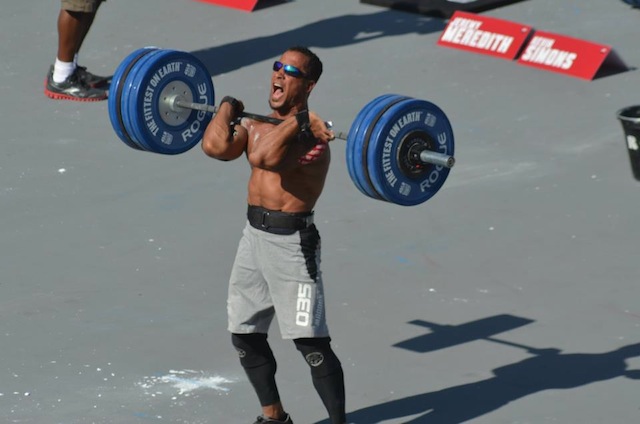 Short Answer Questions
Are you an Apple or PC man?
I'm a PC user but I've been slowly changing over to Apple.
iPhone or Android?
I went from Android to iPhone.
Favourite fast food?
I'd have to say either In-N- Out Burger or Chipotle.
Favourite vacation destination?
I really enjoy Cancun or Cabo.
Favourite TV Show?
I've been watching this series called Walking Dead at the moment.
Favourite book?
This book I'm currently reading called, 'The Traveler's Gift' by Andy Andrews.
Favourite exercise?
Anything that's ground to overhead. Probably snatch.
Single or taken?
I'm currently dating someone so I can't really say either.
What can't you live without?
My family and my dogs.