This week we take a closer look at another functional fitness clothing brand, iWOD Apparel.
Item: iWOD Apparel
Price: $15-$25 USD a shirt
Manufacturer: iWOD Apparel
Purchase: www.iwodapparel.com

Just like many other CrossFitters, I take a lot of pride in how I look during my workouts. Let's face it: to some, style matters.
Searching for good functional fitness apparel that is comfortable to wear during WODs, and when outside your box can be a tough task at times.
Personally, I like simplicity. I don't want slogans everywhere on my back. And I don't want someone's face on my chest.
With other companies producing shirts with catch phrases and sexual innuendos as well, I went searching for something a little different. Something simple, to the point and stylish. That's when I found iWOD Apparel.
iWOD Apparel is a functional fitness clothing company selling tops, tees and hoodies for both men and women. They are also simple, which is what I liked the most about them.
Here's one of their slogans taken from their website:
"We CrossFit. We make things we like. If you like them, you can buy them; We will like that too."
Now that's what I am talking about when I say simple.  Straight to the point!
The Good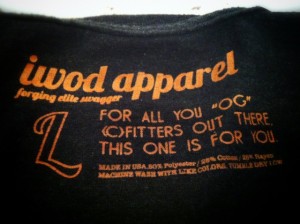 Lightweight: These shirts are a made of a tri-blend using polyester, cotton and rayon. The shirt for one, feels ultra light and makes for perfect workout apparel. Because of its material and light feel, it was very breathable and great to wear in any type of WOD.
Fit for Comfort: I'm not one to ever take my shirt off during a workout, so I want something that is going to be comfortable throughout the entire WOD. Not once did my iWOD shirt annoy me, irritate my skin or leave me dying from heat.
Quality and design: Stitching, print and design quality are all things I look for when shopping for a t-shirt, and iWOD Apparel scored well in all three areas. Their shirts are also durable. When I'm working out, barbells are constantly coming in contact with my shirts and exercises like burpees can also cause some damage. However, the shirts held together well, even in some of CrossFit's toughest WODs.
WOD for Zach: iWOD Apparel donates a portion of its sales from the shirt "All I Do is WOD for Zach" to Zach Miller, a member and coach of CrossFit Pittsburgh who was involved in a tragic accident.  It is always awesome to see the CrossFit community going above and beyond to help out their community.

Price: Their shirts range from $15– $25. Considering other CrossFit companies charge as much as $50 a shirt, these are a steal!
The Bad
Colour Fade: To some this may be a bad thing to others perhaps not so much. After about 15 washes or so, I did start to see one of the shirts fade a little. Personally, I like the distressed/faded look, so it didn't really bother me at all, however, I'm sure other people might not like it.
Conclusion
I own some Rogue t-shirts and I have to say I would pick iWOD Apparel's shirts over Rogue's any day. I think the fit and comfort of the shirts are better, and they also have cooler designs. Funnily enough,  iWOD's apparel is functional: serving a purpose in the gym during WODs, and giving you something comfortable and stylish to wear outside the gym.
iWOD plan on releasing some new designs in the next few months, so I'll be making sure I keep an eye on their range.
———————————————————————
Review by CC.