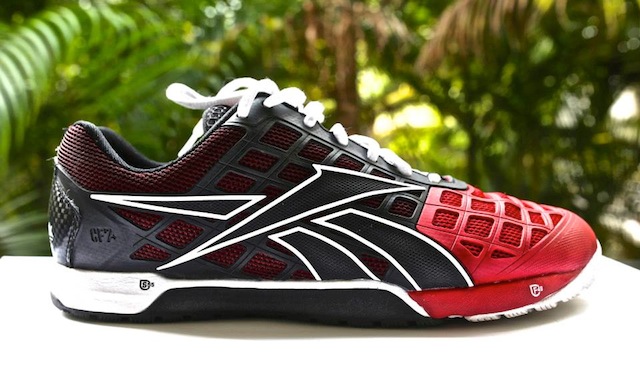 This week we take a moment to review the newly updated Reebok Nano 3.0.
Item: Reebok Nano 3.0
Price: $119.99 US or $149.99 AUD 
Retailer: Reebok 
Purchase: https://shop.reebok.com.au/
Can I get a whoop, whoop? Why? Nano 3.0s are in the hizzle! …Er, house. Yes, house. I'm 35, I shouldn't talk like that.
This is pretty exciting for me because I've been a Minimus girl and never had the 2.0, but I've heard great things in anticipation of the 3.0 release.
According to Reebok, the 3.0 offers more flexibility and protection to the outer shoe for rope climbing, and whereas the 2.0 included "DuraGrip" in the toe for extra durability, the 3.0 features "DuraCage" to the entire upper for more protection. Additionally, an anti-friction lining was added to the breathable mesh to prevent abrasion and heat build up, as was a "sockliner."
This is my third shoe review for The Rx Review (first being the New Balance Minimus and second being Adidas AdiPower) and let's be honest, there are only so many times you can read about my colossal feet.
The Reebok CrossFit Nano 3.0 is worthy of so much more than another self-deprecating review, so I'm going to turn this review on it's head–get it, I'm putting feet first. I know. I'm hilarious.
My pal Kenneth Chung, also known as your Bos Creek grassfed beef provider, recently posted the following on Facebook: "Watched the Usain Bolt documentary last night and thought I was going to sprint my [bleep] off today…that inspiration disappeared in one night."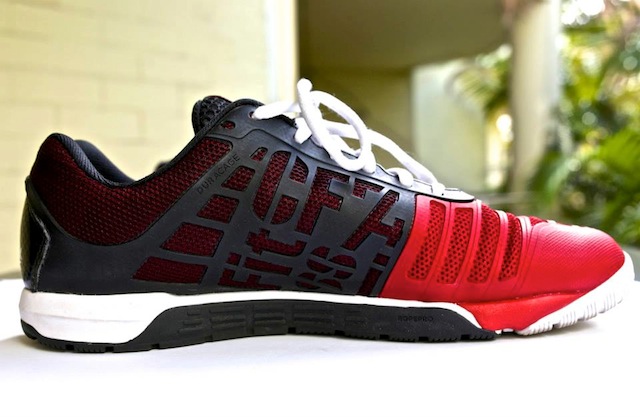 Yes, I censor my friends — I have delicate ears, or eyes in the case of FB. (Moment of truth: I actually swear like a sailor or truck driver, or pirate…yar, mother effer). But back to the post.
It reminded me of how the movie Without Limits, which covers the life of famous runner Steve Prefontaine, makes me feel as though I can run a marathon — as soon as I stop balling my eyes out, that is. Then I remember, I hate running…like super HATE.
Watching CrossFit has the same effect on me. I get so inspired when I watch someone do a freaky fast Fran time or observe the fluidity of continuous butterfly kipping pull ups. Add in new shoes — and I'm all "damn, I'm gonna rock this." Then 3..2..1.. and bam, I remember who I am and just how much room for improvement I have.
But no more mean self-talk. I'm convinced that the Nano 3.0s are going to change my life. I started out with the walk-around-the house-test, and they seem to run true to size. I wear an 11 in women's, but Reebok decided to stop at a size 10…ugh, here we go again.
I switched to the men's sizes and bought a 9.5. The length is perfect, but the shoe itself seems to run wide in the toe box, making the shoe feel big. We'll have to see how that pans out in actual use.
With that said, it's time to see if these shoes make me a better CrossFit athlete — and trust me, I have a long way to go, so it's not that big of task. Or is it? Let's find out. 3..2..1..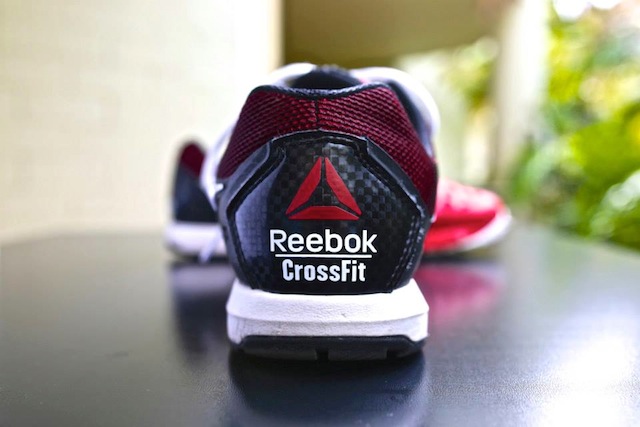 Running
Have I mentioned I hate running? But for you, dear reader, I found my inner Prefontaine and took to the pavement.
Good: The shoes are light (290 grams per 9.5 US shoe), and the wide-open toe box are like a double-wide trailer for my toes to get their wiggle on. They have just enough squish to absorb some shock, but not so much that you feel like you're running on a raised platform.
Bad: I hate wearing socks, but they were a must with these shoes. It's possible it's just because they're new, but the back of the shoe runs high in comparison to my Minimus, and just walking around the house in them caused rubbing on my achilles tendon. Still, I tempted fate and ran sock-free. Result: blister. My goal is to break them in a bit more before I go sans socks again.
Box Jumps
I have a fear of box jumps after fracturing my wrist during a finisher of as many 36-inch box inch in 3 minutes as possible. I got to number 12 and the heel of my Minimus got caught up on the seam of this soft mat-like box I was using and down I went. But it's time to overcome my fears and get back on the horse…er, box.
Good: The shoes are light so you don't feel like you have cinder blocks weighing you down. There is good flexibility and space in the toe, but the middle of the shoe gives the confidence that your shoe won't fall off..
Bad: The laces are crazy long, so my fear of falling was still alive and kicking. I'm nearly a professional klutz; I really don't need any external factors helping me along. I believe the laces are so long because the Nano 3.0 is wider than most shoes I'm used to, so I had to tie them tighter.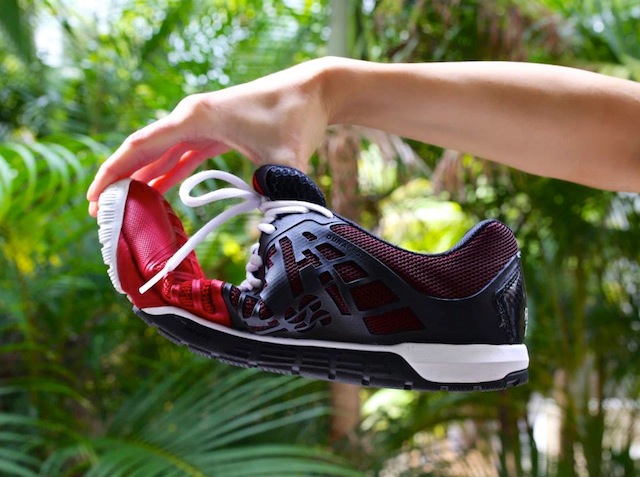 Burpees 
We've all seen the t-shirt "Buck Furpees." Does anyone enjoy burpees? Honestly?
Good: The shoe bends well so dropping and popping your feet back happens like a breeze.
Bad: The tip of the toe is stiff and makes it hard to get your feet back underneath you. I was doing burpees on cement, and with my first two, I slipped a bit. I found myself having to consciously lift my toes to try to get the tops of the toe beds to rise.
Snatch
I love me some snatch…wait, that sounds dirty, but you know what I mean. It comes in second to the deadlift as my favorite lift. I usually O-lift in my AdiPowers, so this should be an interesting mix up.
Good: I felt pretty good in these. My AdiPowers are stiff as a board, so I thought the landing in Nanos would feel squishy. However, the base of the shoe is sturdy enough to keep you grounded.
Bad: The 4mm heel to toe drop pales in comparison to the AdiPowers 24mm, so I wouldn't replace my O-lifting shoes for the Nanos on strict lifting days. However, when you have a WOD where you're doing a little bit of everything, Nanos will get you through your lifts just fine.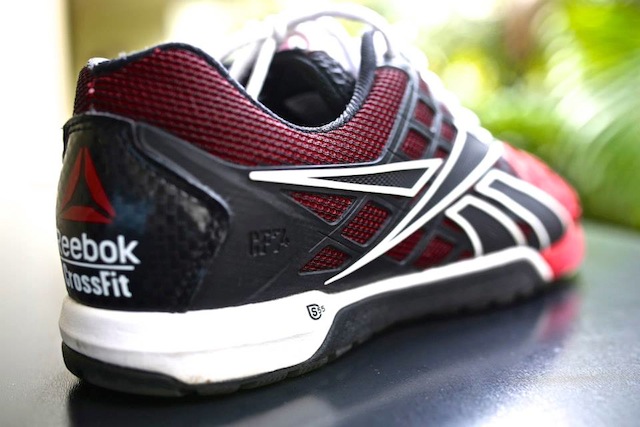 Pistols
Oh, boy…pistols. Mine are really less of an L and more of a backward slash (this symbol: \). My heel immediately rises, so I think the Nanos are going to be at a disadvantage here.
Good: The bottom sole of shoe has a great grip, which helped me feel confident that my foot wouldn't slide out from beneath me. Surprisingly, though, my heel stayed put. Totally shocked by this!
Bad: The interior sole of the shoe is super soft, but almost has a bit of slickness to it — must be the anti-friction feature added. I felt a little like my toes were gripping for dear life at times, leaving my feet feeling a bit achy afterward. I'm guessing this will go away once I can go sockless.
Double Unders
I'm not consistent with stringing my double unders together, but when it happens I feel like Rocky at the top of the stairs.
Good: I felt so much lighter on my feet than I have in any other shoes. Having mostly worn Minimus, there was a spring to the Nanos that is perfect for jumping rope.
Bad: That wide toe base takes a little getting used to. I got tripped up a few times while just warming up with singles. Then again, coordination is not high on my list of strengths
Rope Climbs
I can't give this a good or bad overview based on experience because I have an injury that prevents me from giving ropes a true test run. However, Reebok advertises: "RCF Natural last enables full foot dispersion for greatest stability with Medial/Lateral Rope Guard and multi-directional outsole splay zone."
What? Let me see if I can translate that buzzword-laden marketing copy. From what I can tell, the sole at the arch of your foot is made of a durable, almost hard material — i.e., it's not very flexy. Compared to a straight up fabric and rubber composition, your shoe should still be intact when you slide down the rope, but with enough grip to get you up there in the first place.
Conclusion
So, am I better CrossFit athlete because of my shoes? Only sort of. Let's face it, did anyone duplicate the amazingness that was Michael Jordan just because they wore Air Jordans? Of course not. Still, having a shoe that is made just for our sport is completely necessary.
Reebok understands that we're never doing the same thing each day and thus set out to make a shoe that can do everything we try to do. Overall, I'd say they were very successful.
The shoe is solid, but still flexible. It's got grip, but can slide down a rope without disintegrating. The shoe fits pretty well, but still gives your toes room to breathe. However, that might also be where this shoe falls short for some. If you have a wide foot, you're in luck–this could be the perfect shoe. But for everyone else, get ready to lace them up tight to feel snug.
I can't speak to the comparison of the 3.0 versus the 2.0, but I asked Michael McCoy–yes, amazing founder of The Rx Review — and he had this to say: "Personally I think these feel much better than the 2.0. I was not a huge fan of the 2.0 but the cut, sizing, and design of the 3.0 make for a much better fit, feel, and purchase. Reebok have done their homework, made minor but important changes and with that have produced one of the best shoes designed for CrossFit today."
The Nano 3.0s didn't turn me into Annie Thorisdottir (preinjury, that is), but they gave me the confidence that they can handle anything I throw their way. You won't see me at the Games anytime soon because of them, but then again, that takes a lot of work, which has very little to do with a pair of shoes.