With rope climbs comes rope burn. So this week we review the Rx Smart Gear Shin Guard.
Item: Shin Guard
Price: $29.95 (Sold separately $14.95 each leg)
Retailer: Rx Smart Gear
Purchase: http://www.rxsmartgear.com/shin-guard-s/
The idea of The Rx Smart Gear Shin Guard is simple, protect the skin on your shins from burning off during rope climbs. While some people use long socks, soccer shin guards or compression leggings, this product was purpose built for rope climbs.
Made from heavy-duty canvas with three 40mm wide Velcro straps, it fastens neat and tight around the calf/shin. The canvas material is patterned in a fashion that finished the bottom cuff of the guard over the top of your shoe rather than it being a 'sleeve'. This is a very smart detail that adds additional protection to the top of the shoe, as well as a comfortable fit.
Once upon a time I lived in San Diego California. I reminisce about my time there often, the great city that it is and the people who are my dear friends.
During that time, I was fortunate enough to attend an Rx Jump Ropes seminar held by David Newman from Rx Smart Gear. If you have ever been lucky enough to attend one of these workshops you would have witnessed the precision and understanding that David presents.
This is of course backed up by an outstanding product in the Rx Jump Rope that can be found in CrossFit affiliates around the world. I've personally had the same Rx Jump Rope for almost 3 years and counting.
Recently, Rx Smart Gear has expanded their product range. Searching their website today, you can find products as varied as shin guards for rope climbs, grips for muscle ups, and mats for handstand push ups.
Because I had such success with their Rx Jump Rope, I decided it was time to try another product. So here's my review on the Rx Smart Gear Shin Guard: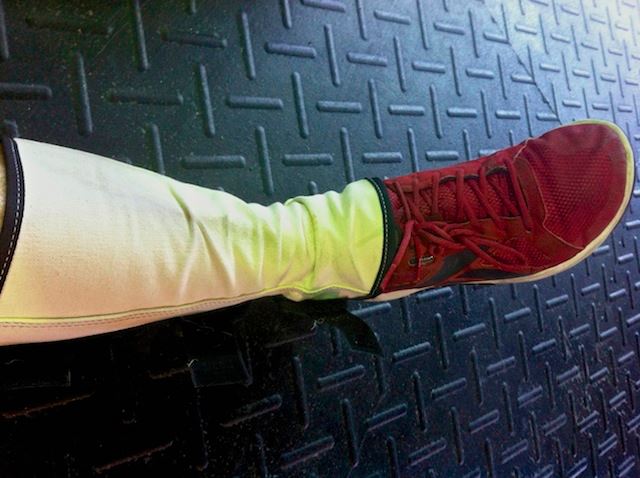 The Good
Material: When using the Rx Smart Gear Shin Guards, I immediately saw the benefit of the heavy-duty canvas. There is a distinct difference between the protection a sock gives my shin compared to the durability of this product. In effect, the thick canvas meant I was able to descend down the rope during a set of rope climbs in a far more aggressive manner and without fear of rope burn.
Patterning & Fit: Added to this is the patterning of the fabric – a tapered fit around the ankle not dissimilar to drain pipe jeans at the top of the ankle. The pattern then 'flutes' down over the ankle and up toward the top of the calf. This creates a form-fitting shin guard that locks into place; there is no risk of the guard sliding up or down the shin in the ascent or descent of the climb.
Protection: After using the product for several weeks, I noticed a distinct wear pattern on the front of the guard. This is a clear indication that the skin on my shin wouldn't be there if it were not for the shin guard. It will be interesting to see how the material withstands constant rubbing in the same area over time?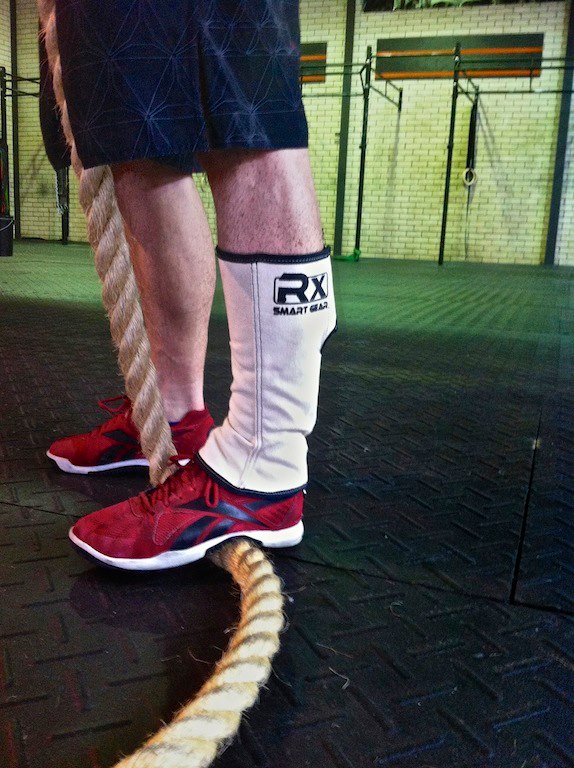 The Bad
Colour: One observation is that the off-white/cream colour guard we received does show dirt marks after a single use. This could be easily removed with a wash. However, if you are averse to washing your gym gear (as most of us men neglect from time to time) it is something to keep in mind.
Sizing: Currently there are only two sizing options- Small/Medium and Large/X-Large. These guards wrap close, so they almost allow you to tailor them to your leg size. However, they may not fit you depending on the size of your ankles and calves. I was using the medium size and they fit perfectly. Although when I gave them to some of the girls at our affiliate to try they were simply too big. Based on that, a smaller size option may be a good idea.
Conclusion
Overall, the shin guard is an outstanding accessory and one that should be seriously considered.
Despite the sizing issue, I was thoroughly impressed with this product. The Rx Smart Gear Shin Guards are easy to put on if you're at a competition and rope climbs come up or if they are ever programed during your regular training cycle. They do a fantastic job at protecting your shins from rope burn and I think they are product that should be in every CrossFitters bag.
I'm very happy with my pair and will continue to use them.