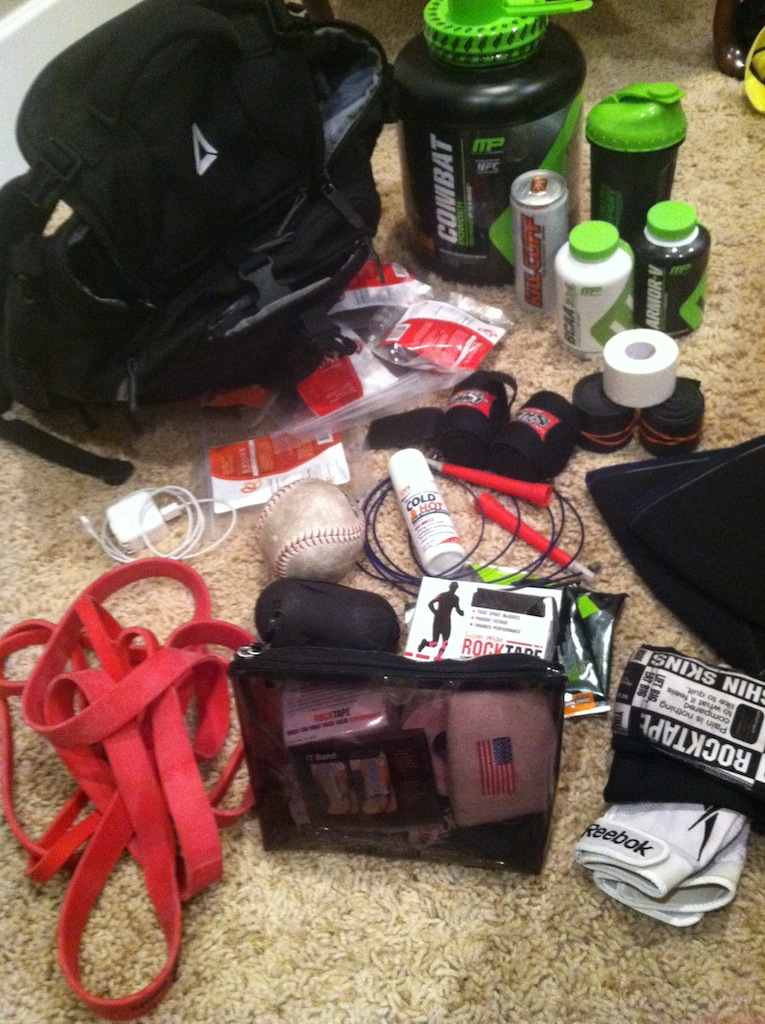 I get emails all the time from first-time competitors asking for advice before their first competition. I usually like to write some words of encouragement and a reminder to have some fun and enjoy the process.
As I was packing up to fly down to Orange County for the OC Throwdown I realized that while I had a lot of different items to organize and bring with me, it was a very familiar process for me. For the newer competitor I thought it might be helpful to run down my mental checklist of pre-competition preparation.
First, and probably most obvious would be to pack enough clothes for the trip, plus some extra. As I am a habitual over-packer, please feel free to ignore some of my "extras." For a two-day competition with approximately 3 workouts in a day, I plan on at least one extra change of clothes each day.
Clothing
1. Variety of Reebok t-shirts: 6 – excessive but I like options.
2. Shorty short shorts: 4 – two for each day, in case I want to change out of sweaty clothes.
3. Socks: 5-7 – I don't know if this is Lt Dan's fault or what, but I'm obsessed with bringing 2-3 extra pairs of socks wherever I go.
4. Shoes: 1 pair of my Reebok Nano 2.0s.
5. Warm-ups: 1 pair sweatpants, 2-3 jackets for layering.
6. Compression Gear: Pants, long sleeve shirt, socks, arm sleeves – I like being compressed after competing all day.
With CrossFit, there really isn't much equipment to bring since your body is the most important piece of equipment you will use. That being said, I bring a handful of items that I have found very useful in the past. Keep it simple and only bother bringing things you have regularly used before and are comfortable with when training.
Competition Equipment
1. Jump Rope: Most competitions don't provide them.
2. Lifting Shoes: Very nice for the heavier Olympic lifting events.
3. Knee Sleeves: For high weight or high volume squatting these can be helpful.
4. Weight Belt: Great for some extra support when approaching heavy lifts.
5. Wrist Wraps: For heavy weight overhead, these are my best friend.
6. RockTape Shin Sleeve: Love having this when the workout calls for rope climbs.
7. Reebok Gloves: I rarely have a use for gloves but they have come in handy in rope climbs in the past.
Mobility Tools
No fitness bag is complete without a variety of mobilization-y tools to help you warm-up and prepare for whatever event comes your way.
1. Softball: For smashing everything on your body.
2. Two Lacrosse Balls Taped: Mostly for shoulder, scapula, and thoracic smashing.
3. Thin & Medium Thickness Bands: I use the thin ones for shoulder warm-ups and the medium one for stretching legs and hips.
4. Compression "Voodoo" Bands: These are great for everything really but I tend to focus on ankles, knees/quads, and shoulders.
5. Tape: Mostly for my fingers and thumbs before Olympic lifts, I'll use tape in some capacity for many workouts.
6. RockTape: For addressing specific injuries or injury prevention, this works best.
7. Scissors, Nail Clippers, Bandaids: Just in case!
8. Icy Hot: Because sometimes this is the best thing for muscle pain.
Lastly I tend to pack a lot of supplements for the event. For my nutrition on game day, I find it helpful to have high protein/high carb protein shakes after each event. In addition I will add in as much real food as I can depending on time between events and how I'm feeling.
1. Muscle Pharm Assault: I take a half-one full scoop before heavy lifting events for an extra jolt of energy.
2. Muscle Pharm Combat: I'll combine Combat protein powder with some Biotest Surge Post-Workout for immediately after an event. The combination of the two is enough protein and carbs to keep me going strong.
3. MP Armor V: Lots of good vitamins and minerals to help protect my body as I beat it into the ground with workout after workout.
4. MP BCAAs: Helpful to fill in the gaps where my nutrition may be falling short between events.
6. Kill Cliff: I love using KillCliff anytime I need an extra energy boost or I just want something delicious.