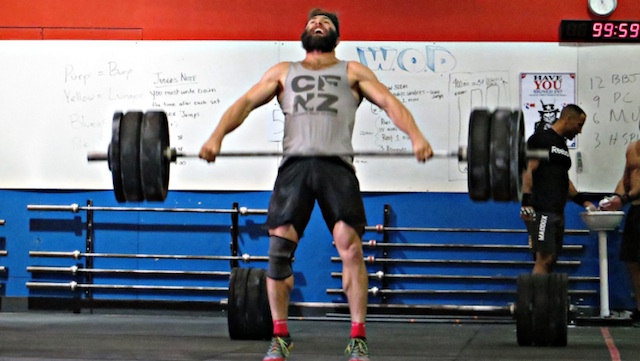 Five seconds.
That's how much time stood between Pat Barber and his return to the Reebok CrossFit Games in 2013.
After taking eighth place at the Games in 2011 and missing out on the 2012 season due to an appendectomy, Barber was back in 2013 and on track for another appearance at the StubHub Center after qualifying for the NorCal Regional with a 4th place finish in the Open.
However, in the final event of the NorCal Regional, Barber finished five seconds behind Marcus Filly – leaving him in fourth place overall, one position short of qualifying for the CrossFit Games.
Fast forward to the 2014 Open, Barber stands in eighth place in the Northern California Region and inside the top 100 worldwide. After ten years in the sport, Barber is mentally and physically ready to return to Carson, California in July this year.
Barber said of his Open performances, "They were exactly what I expected. You can only give what you have in the moment. As long as you give it your all when you go at the workouts, that's all you can really ask from yourself.
Battling lingering shoulder pain that prevented him from doing pull-ups for months before the Open, Barber's philosophy was tested over the course of the Open's five weeks. Barber's patience with his recovery paid off in a big way.
"Something during 14.2 broke up a bunch of gunk in my shoulder and since then I have done hundreds of pull-ups with no issue."
Today, Barber goes as far as to say his shoulder is doing "extremely well" and after ten years with CrossFit, many as a top level athlete, his body is feeling "surprisingly good."
Even as one of the sport's most experienced athletes, Barber admits, "I had a period of time where I was pushing a bit too hard without being conditioned for it and my body started breaking down. I pulled back and eased into things a bit more and now I am feeling great."
Once again, Barber's patience paid off. He's stronger and training better than ever before.
"My volume is up and my body is feeling solid and strong. Don't get me wrong; I have aches and pains, but nothing major. The weird thing for me right now is that for the first time in my life, the more I train, the better I feel – rather than vice versa."
Here's a look at Pat Barber's current PRs compared to his body weight. 
| | | |
| --- | --- | --- |
|           Lift          |             Weight           |      % of Bodyweight  |
| Snatch | 260 LB / 118 KG | 149% |
| Deadlift | 500 LB / 226.7 KG | 286% |
| Clean & Jerk | 310 LB / 140.6 KG | 177% |
| Back Squat | 425 LB / 192.7 KG | 243% |
| Front Squat | 380 LB / 172.3 KG | 217% |
| | | |
For his personal programming, Barber goes by the book, "a basic CrossFit program – constantly varied, functional movements at high intensity."
"The only difference is I have a pretty high volume and I spend a lot of time doing things I don't like to do – think barbell work at moderate loads for long periods of time."
To prepare for Regionals, Barber's strategy doesn't change much. "Regionals prep is the same, but go a bit heavier more often."
What keeps Barber motivated after ten years of AMRAPs, benchmark workouts, and hard-earned PRs?
"The fact that it's real. What I mean is that I keep getting better and I keep seeing people change their lives using this program."
Like many of us, it's the community that makes CrossFit more than a fitness program for Barber. He said,"Day in and day out, I get to hang with happy, positive people that genuinely care about each other. It's awesome. I'm not sure if CrossFit creates these people or it just draws like minded people together, but either way, I love it and I am here to stay."
Today, Barber's post-Open plans represent one of CrossFit's biggest elephants in the room. At CrossFit Level 1 Seminars, where Barber is one of the most recognized staff members, he can't escape questions surrounding his 2014 plans.
As a coach at NorCal CrossFit, Barber trains alongside two of the sport's top athletes – Jason Khalipa and Garret Fisher, currently first and fourth in NorCal, respectively. The three NorCal CrossFit athletes are part of an elite region that includes Games veterans Neal Maddox, Marcus Filly, and Wes Piatt.
Barber said of training with his fellow NorCal CrossFit athletes, "They are my bros and they are both amazing athletes with an incredible amount of dedication to what they do. In the end, I can only focus on myself. Peer comparison on any level really only leads to self doubt and that, in turn, leads to failure."
NorCal CrossFit's roster also includes three women who placed in Northern California's top 30 during this year's Open – Molly Vollmer (11th), Miranda Oldroyd (27th), and Jen Cadmus (28th).
With the pieces in place inside the walls of NorCal CrossFit's San Jose location, many have wondered if the athletes would ever create a Games-level "super team" with some combination of the gym's top athletes.
When asked about his goals for the remainder of the 2014 CrossFit Games season, without naming names, Barber answered the elephant in the room, "We will be qualifying a team and placing top 5 at the CrossFit Games."
In five seconds, Pat Barber may have just signalled his return to the Reebok CrossFit Games.